‹ Back to News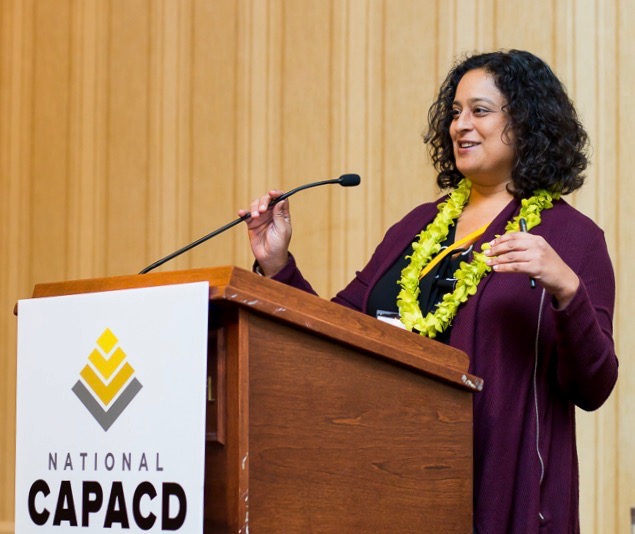 FOLLOW US
In observance of Asian Pacific American Heritage Month, we have been taking some time to acknowledge our communities' shared histories and to celebrate some of our dynamic leaders. It is in this spirit that we recently spoke with Seema Agnani, executive director of National CAPACD, an organization dedicated to community development, organizing and advocacy for Asian American and Pacific Islander communities across the country.
Agnani is part of AAFE's extended family. In 1995, she joined Asian Americans for Equality as a housing associate and later was a driving force behind the creation of Chhaya CDC, which was founded to serve New York's South Asian community. Initially set up as an AAFE affiliate, Chhaya eventually became an independent group, with Agnani serving as its executive director for 14 years.
National CAPACD — the National Coalition for Asian Pacific American Community Development — was formed by a handful of organizations, including AAFE, in 1999. After helping to create the new non-profit 20 years ago, Agnani now heads National CAPACD, which boasts more than 100 members nationwide.
The past year-and-a-half, since the 2016 Presidential Election, has been full of new challenges for the AAPI community. Agnani said she's proud of the way advocates across the country have responded. "I have seen our groups come together in a way they really haven't before," said Agnani, "and with other communities of color. I have seen a lot more coalition efforts emerge, people bringing in unlikely partners to their efforts. I think that's really the thing about times of crisis: politics gets pushed aside and we all come together around our shared mission."
As examples, she cited the collective response to ICE's aggressive tactics in immigrant communities and the groundswell of support for the Dreamers, DACA program participants imperiled by Trump administration policies. "There have been organizing efforts in New York, San Francisco and Los Angeles," noted Agnani, "where multiracial coalitions came together for direct action and essentially said, 'We are not going to stand for this.' I was proud to see that the Asian American-Pacific Islander community were part of that."
When Chhaya was first getting its start in New York City, both the new organization and AAFE as a whole rose to the immense challenges posed by the September 11th terrorist attacks. While AAFE responded to help shell-shocked residents and small businesses in Chinatown, Chhaya was dealing with an unprecedented level of racism in the aftermath of 9/11. "Chhaya was getting calls from South Asian communities from around the city," said Agnani, "even nationally, who were all of a sudden facing a new level of discrimination. We were getting calls about hate crimes."
During this time, Agnani realized that the South Asian community needed its own dedicated organization. She said AAFE played a key role in helping Chhaya set up the non-profit, raise money and connect to resources. One of the lessons she took away from those years: partnerships matter and can make all of the difference for emerging groups. Today National CAPACD serves as a HUD intermediary, re-granting about $2 million to member groups, especially those working in emerging communities.
Another lesson learned over the years, said Agnani, is that it's insufficient simply to offer services in immigrant communities. "Leadership development," she said, "has to be front and center for long-term impact. Just providing services is not enough. If you are really interested in building power for a community, it has to be from the local leaders themselves, finding ways to give voice to people and help them grow their own capacity to advocate for themselves."
Agnani said a big priority at National CAPACD this year is diversifying the organization's membership, bringing more advocacy organizations into the fold. That's already starting to happen.  Another priority is collaboration on major issues.  "We're realizing we need to invest time and energy in building a cohesive coalition around a shared set of values," she explained.  "It will allow us to mobilize much more effectively in the long term."
In closing, Agnani offered her thoughts regarding the value of Asian Pacific American Heritage Month. "It's important," she said, "because it gives us an opportunity to lift up the impact and the challenges in our communities. At the same time, I feel like we should be doing that all the time, not just during the month of May. In Washington D.C., where National CAPACD is based, Agnani noted, "there's an opportunity to focus on issues within our communities with elected officials and agencies. "We are building together as a community, so it brings us together."