‹ Back to News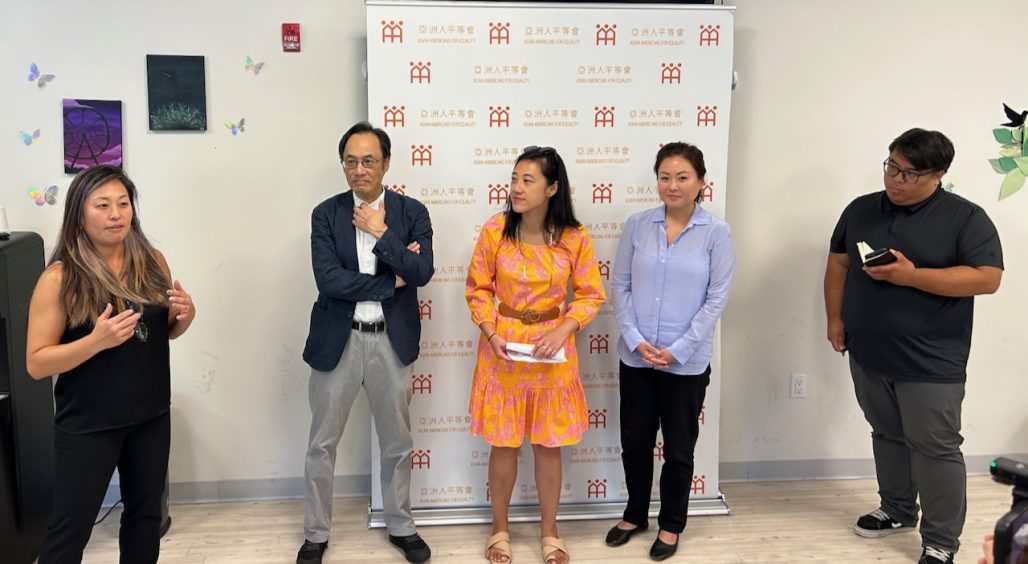 FOLLOW US
Asian Americans for Equality (AAFE) and the Asian American Bar Association of New York (AABANY) have partnered with City Councilmember Sandra Ung to provide free legal consultations in Flushing, Queens. The new round of pro bono legal clinics begin Wednesday, September 6 and will be offered bi-monthly (flyer). 
The clinics are organized by AABANY's Pro Bono and Community Service Committee and held at AAFE's One Flushing Community Center, located on the second floor at 133-29 41st Avenue. Translation is available in Chinese, Korean and Spanish. 
Volunteer attorneys drawn from AABANY's membership are available for 30-minute consultations regarding a range of topics including: housing, employment, labor, immigration, and family law. Community members may make an appointment to see an attorney by calling AAFE at 718-316-9993, or simply come to the clinic between the hours of 6:30 p.m. and 8 p.m.. Legal clinic dates have been scheduled for September 6 and November 1. 
AABANY first organized pro bono legal clinics in 2015 to serve members of the Asian American and Pacific Islander (AAPI) community with limited English proficiency (LEP) so that they can attain meaningful access to justice. Many of these community members lack access to reliable information about the legal process and available legal resources. AABANY's volunteers provide assistance in a culturally and linguistically appropriate manner. In collaboration with community organizations, these clinics are run entirely by members of AABANY, who are lawyers, law students, and interpreters volunteering their time. 
"Navigating the intricacies of the legal system can be a daunting task, especially in our largely immigrant community where limited English proficiency creates another barrier to understanding one's legal rights and responsibilities," said Councilmember Sandra Ung. "These one-on-one consultations aren't just about providing 30 minutes of free legal advice, but about empowering members of our community, who are often taken advantage of because they lack access to proper legal guidance. I want to thank AAFE and the team of professionals from AABANY who have pledged their time and expertise to offer this pro-bono legal advice to those who need it most."
From the One Flushing Community Center, AAFE provides multilingual housing counseling for low-income tenants, access to government benefits, immigration assistance, college access and youth leadership programs, small business loans and training and homeownership assistance. The collaboration with AABANY makes other essential resources – linguistically and culturally appropriate legal services – available to the community.
"We are grateful to AABANY and all of the attorneys volunteering their time at the Flushing legal clinic," said AAFE Executive Director Thomas Yu. "Pro bono legal consultations complement our in-house services, providing the community with access to expert guidance to help some of our most vulnerable neighbors protect their rights. We also would like to thank Councilmember Sandra Ung for her partnership and dedication to ensuring equitable access to resources in the Flushing community."
"AABANY is pleased to continue our partnership with AAFE to provide much-needed legal services to an under-served population," stated AABANY President Karen Kim. "We are also privileged to be collaborating with Councilmember Sandra Ung on this important initiative to benefit the LEP immigrant community in Flushing and beyond. We thank our Pro Bono and Community Service Committee and our dedicated volunteers for bringing these Pro Bono Clinics to Queens to serve our community."
In addition to the Flushing legal clinic, AAFE and AABANY have partnered for monthly pro bono clinics in Lower Manhattan. Those clinics are scheduled every third Wednesday of the month at AAFE's community center located at 111 Norfolk St. on the Lower East Side. The next Manhattan clinic takes place Wednesday, September 20 from 6:30 p.m. to 8 p.m.. Appointments are not required, but community members may call (212) 358-9922 to make a reservation in advance.  
Asian Americans for Equality is a nearly 50-year-old comprehensive community development organization with offices in Chinatown, the Lower East Side, Flushing and Jackson Heights. AAFE creates affordable housing and promotes economic opportunity, provides an array of multilingual community and small business services and fosters grassroots leadership and civic engagement in communities throughout New York City. 
The Asian American Bar Association of New York is a not-for-profit 501(c)(6) professional membership organization of attorneys concerned with issues affecting the Asian American and Pacific Islander (AAPI) community. Incorporated in 1989, AABANY seeks not only to encourage the professional growth of its members but also to advocate for the AAPI community as a whole. AABANY is a New York regional affiliate of the National Asian Pacific American Bar Association (NAPABA).