‹ Back to News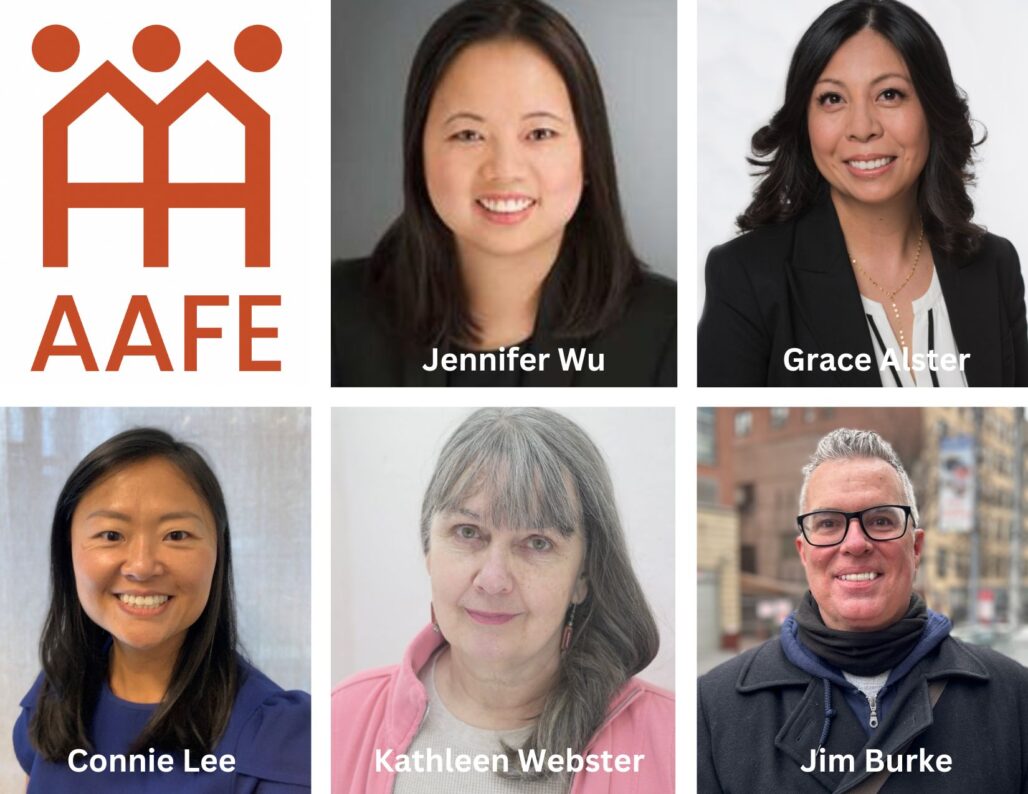 FOLLOW US
Asian Americans for Equality (AAFE) announced the appointment of five new board members, as the 49-year-old community development organization continues to build its capacity to serve new communities and add new programs across New York City.
AAFE's Board of Directors elected the following new members at its December 2022 meeting: Grace Alster, director of real estate operations at Settlement Housing Fund; Jim Burke, co-founder of 34th Avenue Open Streets Coalition in Jackson Heights; Connie Lee, deputy director in the human resources division of the Port Authority of New York and New Jersey; K (Kathleen) Webster, Lower East Side community leader; and Jennifer Wu, a founding partner of Groombridge, Wu, Baughman & Stone LLP.  Two members, Jackie Huey and Ping Dang, stepped down from the AAFE Board at the end of 2022.
"On behalf of the entire AAFE family, I would like to express our gratitude to Jackie and Ping for their dedicated service to AAFE and our affiliate, Renaissance Economic Development Corp.," said AAFE Board President Lydia Tom. "Jackie served on the board across three decades, providing invaluable insights and continuity as AAFE has evolved.  So many Asian women were instrumental in the founding and growth of AAFE during the past half century. Jackie is an important part of this legacy. I would like to welcome all of our new board members, who represent a remarkable diversity of professional and personal backgrounds and will further ground our work in communities we serve. "
"It is an exciting time for AAFE, as we enter a period of unprecedented growth in our affordable housing programs, community services and small business support services," said AAFE Executive Director Thomas Yu. "Our new board members bring a wealth of expertise to their new roles in areas such as human resources, the law, real estate and community building. But their passion for our shared mission and life experiences also make them uniquely qualified to help the AAFE team deepen our impact in underserved communities across our city."
AAFE is a nonprofit organization dedicated to racial, social and economic justice for Asian Americans and other systematically disadvantaged communities. The organization has preserved and created more than 1,200 units of affordable housing and its multilingual community services impact the lives of 30,000 low-income and immigrant New Yorkers each year. AAFE's affiliate, Renaissance Economic Development Corporation, provides low-interest loans and training to immigrant entrepreneurs and through AAFE Community Development Fund, first-time homebuyers receive financial education services and access to mortgage financing.
AAFE is helping to address New York City's housing crisis with new affordable rental projects in Manhattan and Brooklyn, transitional housing for families with children in Queens, homeownership developments in two Manhattan neighborhoods and a SRO stabilization project in Chinatown. AAFE Community Services launched three food pantries during the pandemic, expanded programs in neighborhoods such as East Harlem and added stabilization services for residents living in AAFE buildings citywide. Renaissance delivered millions of dollars in grant and loan capital to struggling immigrant small businesses across the city to help them survive the pandemic.
Read more about AAFE's new board members:
Grace Alster is director of real estate operations at Settlement Housing Fund, an affordable housing developer and manager in New York City. Previously, Alster served as assistant director of asset management at Stanton Norfolk, stewarding AAFE's affordable housing portfolio through the tumultuous pandemic period. Alster is also a member of the AAFE Real Estate Committee, providing key knowledge and input regarding property management operations. Among other roles, Alster has extensive experience in the affordable housing field, as director of operations at the New York City Department of Housing Preservation and Development and asset manager at Enterprise Community Investment.
Jim Burke is a longtime community resident of Jackson Heights, a well-known LGBTQ activist, safe streets advocate and co-founder of 34th Avenue Open Streets Coalition. Through his advocacy and that of other community leaders in Jackson Heights, Burke created a vibrant open space during the pandemic and beyond which not only provided important opportunities for socialization and community building but also brought a wide array of cultural programs and social services to the neighborhood. Burke has collaborated with many organizations, including AAFE, to co-sponsor community fairs, events and outreach opportunities in Jackson Heights.
Connie Lee is a deputy director in the human resources division of the Port Authority of New York and New Jersey, where she manages a staff of 100 HR professionals in personnel management, talent recruitment, compliance, compensation analysis and other core employment functions at the agency. Lee grew up in AAFE's first affordable housing project, Chinatown's Equality House, where her parents still live. Lee also served for many years as an executive assistant at AAFE. She directed community programs at Community League of the Heights (CLOTH), a close partner of AAFE in affordable housing in Central Harlem.
K (Kathleen) Webster is a longtime resident of the Lower East Side and a current board member of Downtown Manhattan CDC, an AAFE affiliate. Webster is a member of Manhattan Community Board 3 and a longtime community organizer. She brings to AAFE her perspective as a resident, community leader and writer on housing and other issues including the fight to preserve the former Rivington House nursing home as a community facility. She has worked extensively for women's rights: as a former manager and instructor for Non-Traditional Employment for Women and AllCraft Center, and as an organizer and panelist for the UN NGO CSW/NY, including as delegate for the UN Fourth World Conference on Women, Beijing, China. Webster successfully fought to be admitted to Plumbers local 2 Manhattan. She has led workshops and training sessions on many issues including for the HIV/AIDS Technical Assistance Project. Webster is currently President of the Lower East Side's Sara D. Roosevelt Park and was formerly co-chair of the M'Finda Kalunga Community Garden.
Jennifer Wu is a founding partner of Groombridge, Wu, Baughman & Stone LLP, a patent litigation firm. She was previously a partner at Paul, Weiss in charge of patent litigation, and also headed up the firm's high profile pro bono representation services for victims and families impacted by anti-Asian violence. Wu co-authored a report with the Asian American Bar Association of New York, "A Rising Tide of Hate and Violence against Asian Americans in New York During COVID-19: Impact, Cause, and Solutions." Wu represented the family of Yao Pan Ma, after he was brutally murdered while collecting cans, and Zhiwen Yan, a food delivery worker in Queens shot and wounded on his job, among others. Wu is a co-chair of the Women's Committee of the Asian American Bar Association of New York (AABANY) and a board member and the finance and governance committee chair of Friends of UNFPA, which supports the life-saving work of the United Nations reproductive health and rights agency, the U.N. Population Fund.