‹ Back to News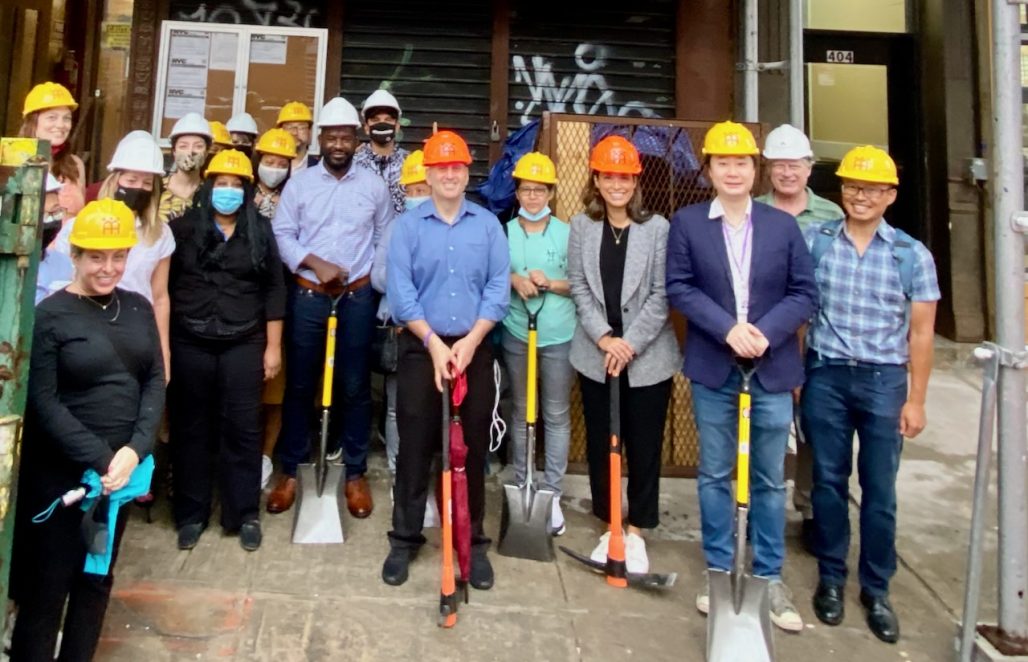 FOLLOW US
Asian Americans for Equality (AAFE), the New York City Department of Housing Preservation and Development (HPD), project partners, elected officials and local residents celebrated the start of construction today for a three-building rehabilitation project that will create affordable homeownership opportunities for 44 families in Manhattan's East Village. The project, made possible through the city's Affordable Neighborhood Cooperative Program (ANCP) includes the gut renovation of the century-old tenements and conversion from rental to co-op apartments owned and managed by residents. 
The city-owned buildings are located at 406-08 East 10th St., 533 East 11th St. and 656 East 12th St. in the East Village, a neighborhood that has experienced rampant gentrification and a lack of affordable housing options in recent years. AAFE and city officials have been working closely with residents for several years in planning for the $20 million renovation. When completed, in December of 2022, 23 families who have lived in the buildings for many years will occupy and own the brand new residential units. An additional 21 apartments will be offered through a New York City affordable housing lottery, expected to take place in 2023. 
"After so many years of planning and collaboration, we are thrilled to be standing here today with building residents and our public and private sector partners to kick off this rehab project," said Thomas Yu and Jennnifer Sun, co-executive directors of Asian Americans for Equality. "The transformation of these buildings will provide a rare opportunity for tenants to become homeowners, building equity in their own community and providing stability in a rapidly changing neighborhood."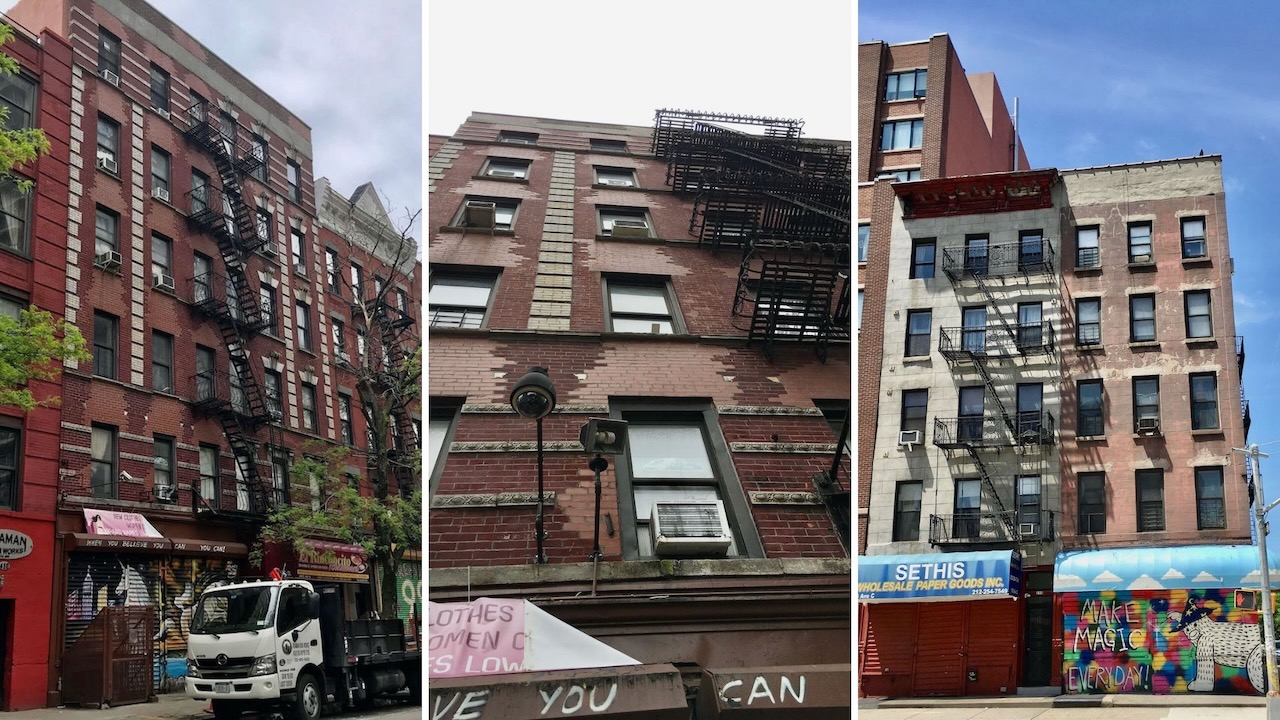 During the summer, a $9.6 million construction loan was closed for the project with Local Initiatives Support Corp. NYC (LISC NYC). Nonprofit Finance Fund (NFF) participated in extending the construction loan, with HPD providing $9 million in subsidy.
"I have strived to partner with neighbors and advocates on expanding access to affordable housing opportunities in District 2, which is why I am especially proud to see this homeownership project underway. Thanks to years of hard work from current building residents, AAFE, LISC NYC and HPD, the LES Cluster Site will make 44 moderate- and middle-income cooperative apartment units a long-term reality for both returning tenants and new families seeking to call this neighborhood home," said City Council Member Carlina Rivera. 
"I'm thrilled to hear about the 44 new cooperative apartments being created in my district. Through the partnership of the city and AAFE this was made possible. And through the leadership of tenants we are going to see a true investment into affordable housing." said State Assembly Member Harvey Epstein. 
"A robust ecosystem of affordable housing options will be essential to helping the city equitably recover from the pandemic and to building opportunity and prosperity for all New Yorkers," said Janet Lorn, LISC NYC's Community Development Officer for Housing. "We're glad to partner with Asian Americans for Equality and Nonprofit Finance Fund to provide the financing necessary to bring dozens of new, quality units of affordable housing to the Lower East Side. This investment in affordable housing is an investment in the Lower East Side's future."
"Families who live, work in and contribute to the neighborhood will now own their homes," said Olivia Pipitone, Associate Director of Financial Services at Nonprofit Finance Fund. "We're proud to support equitable home ownership. No one should be forced from their community by gentrification or lack of affordable housing."  
"I have been living in my building for almost thirty years and we, the tenants, have been working hard for decades self managing our building and taking the great classes offered, while waiting for this process to finally begin and to embark on our journey to homeownership," said Robert Galinsky, tenant association president at 656 East 12th St. "We've weathered the ups and downs of the process and we are thrilled that AAFE and all those involved have overcome the many obstacles to getting this project closed. We are grateful and we look forward to moving back into our completed building which will feel brand new. We know that all of the people who are making this possible, share in the same values of community and teamwork, and the sense of pride we all share as we break ground. It is immense and exciting!"
The gut renovation in the three buildings will include asbestos and lead-based paint abatement, new roofs, new concrete foundation slabs and structural steel, new plumbing and electrical wiring, HVAC, security and fire safety systems and new windows. All of the kitchens will be replaced with new cabinets, counters, fixtures and energy star appliances. There will also be completely new bathrooms in each unit. The buildings will all meet or exceed Enterprise Green Communities standards for energy efficiency.
The 21 apartments made available through a NYC housing lottery will be offered at 93% of Area Median Income (AMI). Based on 2021 AMI, annual household income for a family of 2 would be capped at $105,050 and for a family of 4 at $131,230. Studio, 1-bedroom, 2-bedroom and 3-bedroom units will be available, ranging in price from approximately $240,000 to $357,000. There will also be two retail spaces within the project. 
In 2017, AAFE successfully completed the first project under the Affordable Neighborhood Cooperative Program at 244 Elizabeth St. in Manhattan, creating 19 affordable co-op apartments. The organization is currently in development for another ANCP project in the Chelsea neighborhood, a new construction project that will add 26 more affordable units for existing and new residents. 
Asian Americans for Equality, founded in 1974, advances racial, social and economic justice for Asian Americans and other systematically disadvantaged communities. AAFE is a comprehensive community development organization that builds and manages affordable housing in Manhattan and Queens, provides an array of community services and offers low-interest loans and training to immigrant small business owners. AAFE has preserved/created more than 1,000 affordable apartments in the past three decades. 
About Affordable Neighborhood Cooperative Program: ANCP selects qualified developers to rehabilitate distressed city-owned occupied multi-family properties, managed by the Tenant Interim Lease Program (TIL), in order to create affordable cooperatives for low and moderate-income households. ANCP provides low interest loans for rehabilitation of buildings in the ANCP program. Additional construction and permanent financing sources may be provided by, but not limited to, private institutional lenders and New York State Affordable Housing Corporation (AHC) programs. All ANCP properties are currently owned by the City of New York. They will be transferred to Restoring Communities HDFC ("RC") upon the closing of the construction loan, and conveyed to a newly formed cooperative Housing Development Fund Corporation (HDFC) upon cooperative conversion after completion of renovations. The co-op HDFC is the entity created to be the owner of the building which is owned and managed by the apartment shareholders. [Source: NYC HPD]