‹ Back to News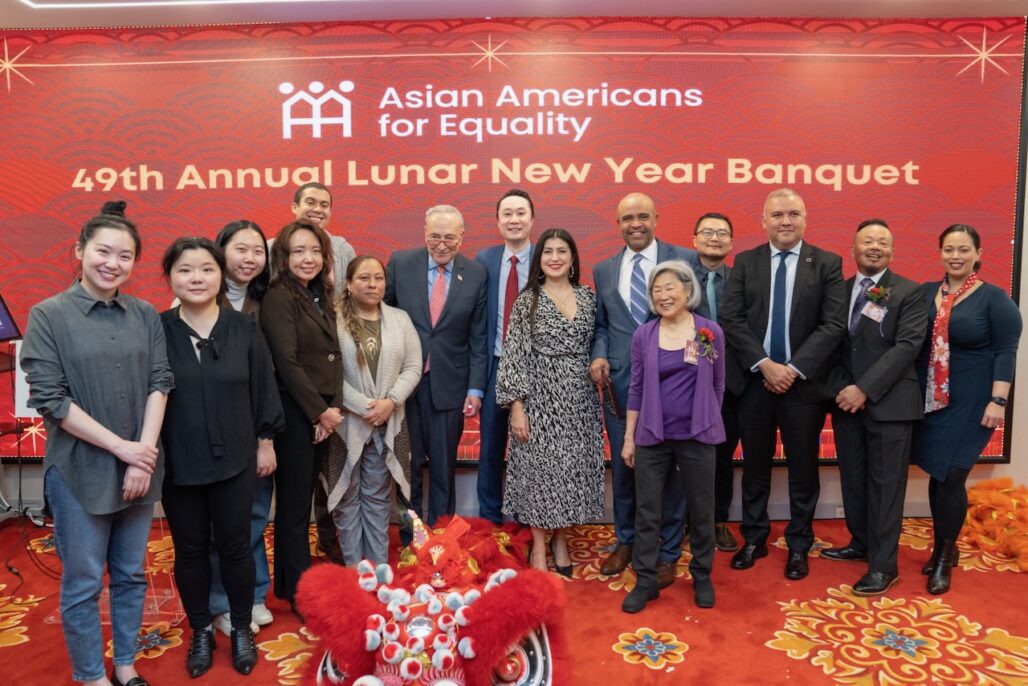 FOLLOW US
On March 23, 2023, AAFE joined with 400 community partners, supporters and friends for its 49th Annual Lunar New Year Banquet at House of Joy restaurant in Manhattan's Chinatown. It was the first in-person benefit dinner AAFE has held since the pandemic began and an opportunity to resume a cherished Chinatown tradition, celebrating the new year and our shared mission of advancing racial. social and economic justice.
During the event, AAFE presented "Dream of Equality" awards to individuals and organizations working to uplift systemically disadvantaged communities across New York City. Honorees included: Adolfo Carrión, commissioner of the New York City Department of Housing Preservation and Development, the Asian American Bar Association of New York, the 34th Avenue Open Streets Coalition and Jackie Huey, a longtime AAFE board member who recently retired after more than 30 years of service to the organization. The banquet was emceed by AAFE Board Member John Leo and longtime community leader June Jee.
Many elected officials attended the banquet, including U.S. Senate Majority Leader Charles Schumer, Manhattan Borough President Mark Levine, State Sen. John Liu, State Sen. Iwen Chu, State Sen. Jessica Ramos, State Assemblymember Catalina Cruz and State Assemblymember Grace Lee. Manuel Castro, commissioner of the Mayor's Office of Immigrant Affairs, also attended. See Lunar New Year greetings from elected officials here.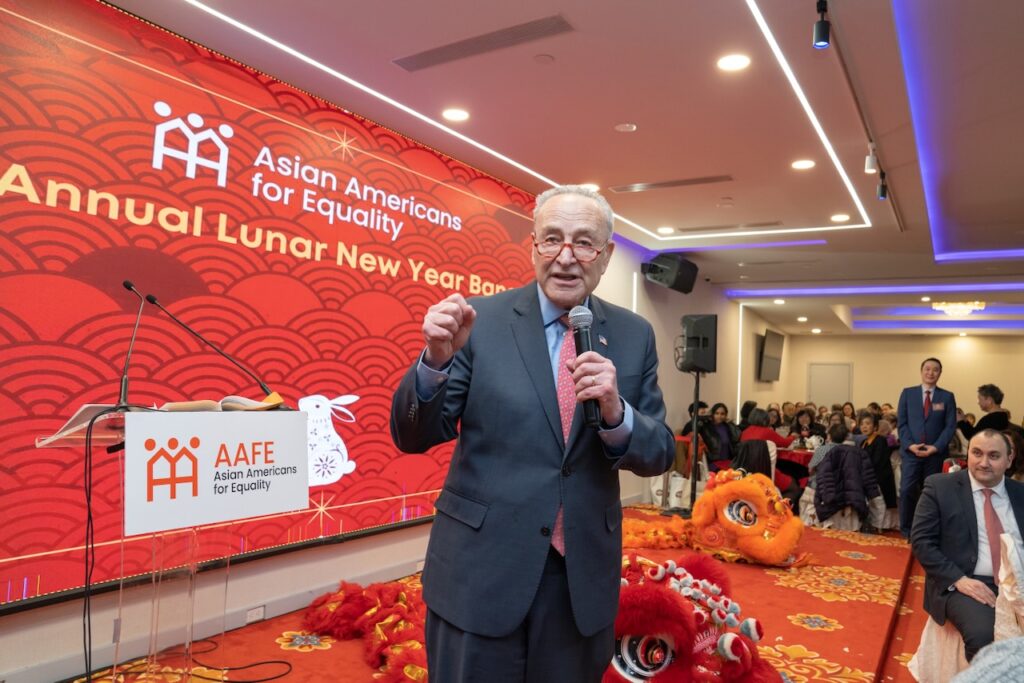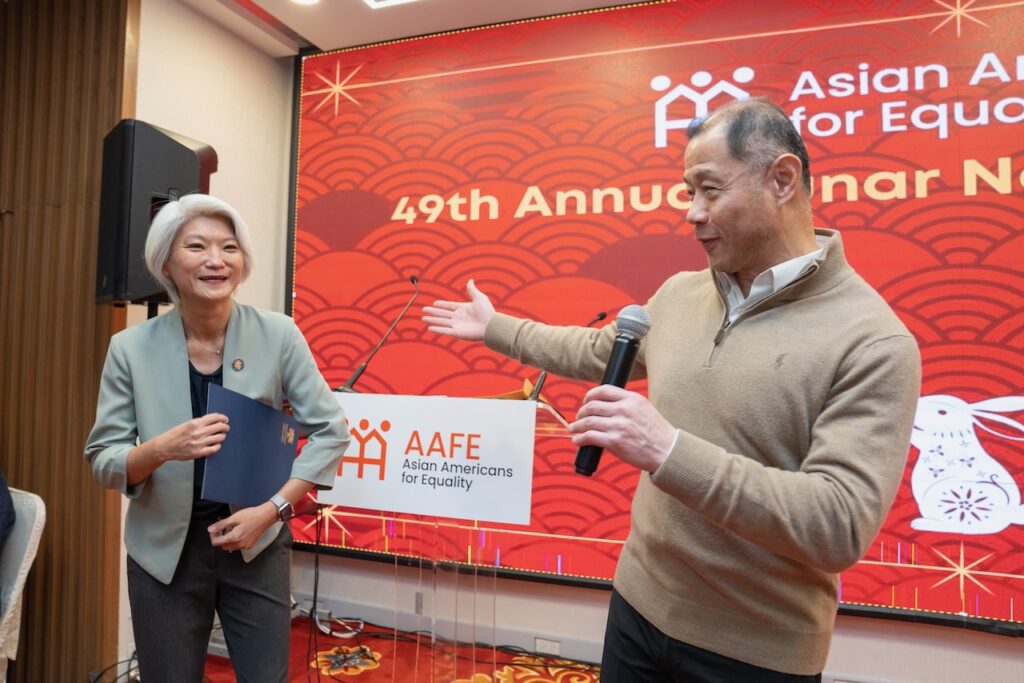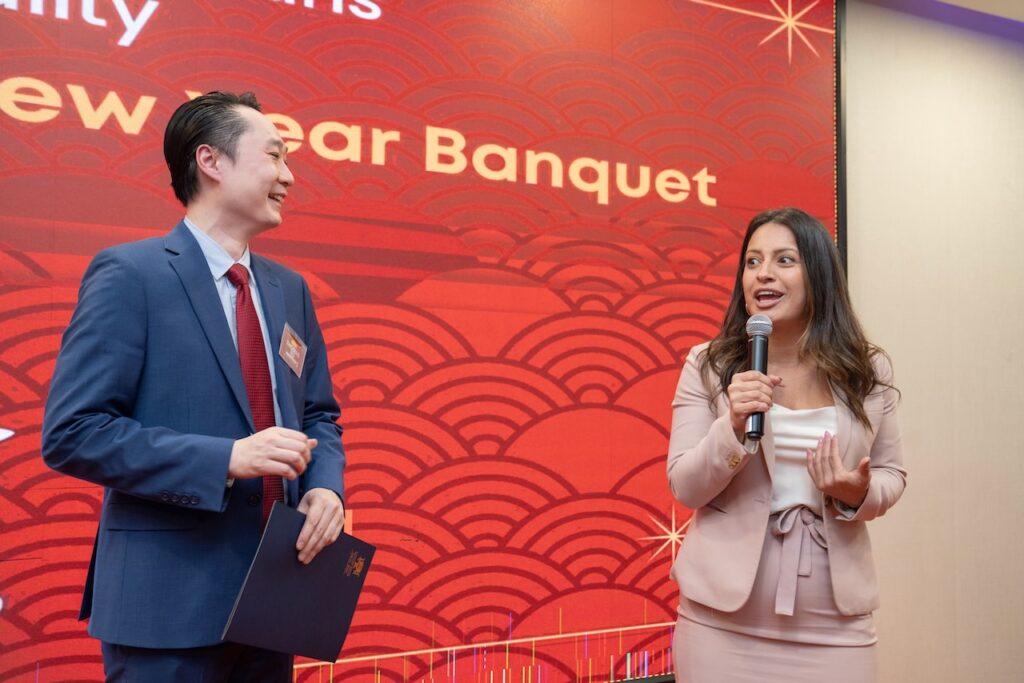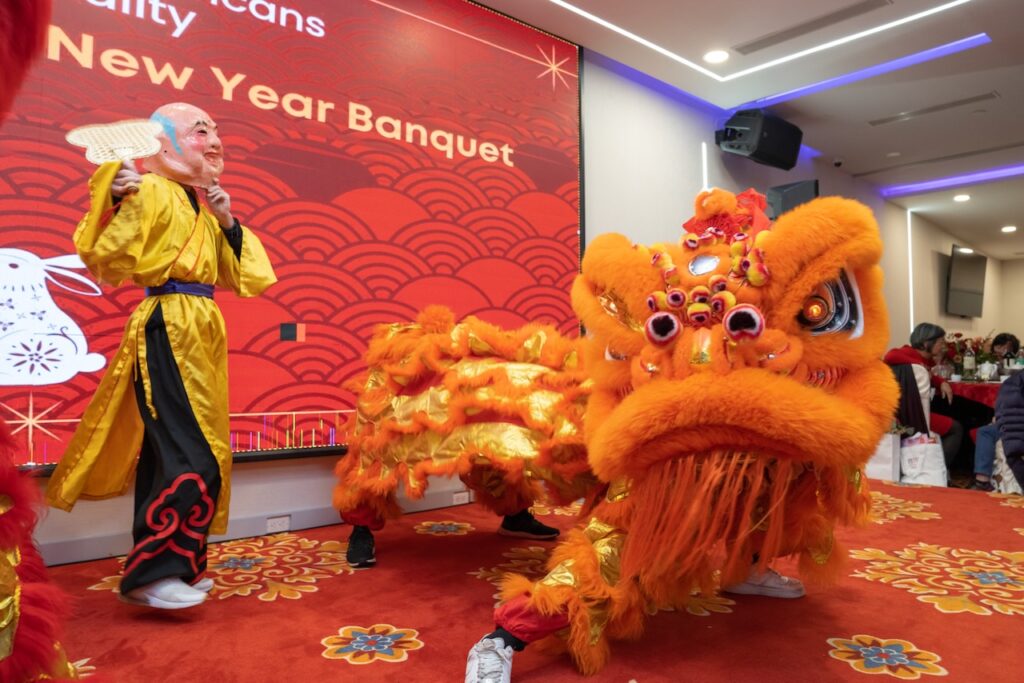 AAFE cancelled its Lunar New Year Banquet in 2020 and held virtual galas the past two years due to the pandemic. The in-person event provided an opportunity to acknowledge the reopening of our offices in 2022 and the resumption in comprehensive in-person community services. Also in the past year AAFE opened doors to an expanding array of programs and services in new communities.
We began resident move-ins at East Village Homes, our 100% affordable rental project in Lower Manhattan; neared completion on a three building affordable co-op conversion program in the East Village; broke ground on our new affordable cooperative project in the Chelsea neighborhood; and moved forward with transitional housing for families with children in Flushing.
Our Community Services Department doubled the number of community members benefiting from direct aid to 14,000 annually, including record numbers of low-income tenants receiving anti-displacement assistance and access to essential government entitlement programs. And our affiliate,  Renaissance Economic Development Corporation, provided 75 low-interest loans to help struggling small businesses survive the pandemic for a total of more than  $3.5 million in loan capital, and helped 22 businesses receive $220,000 in total grant capital.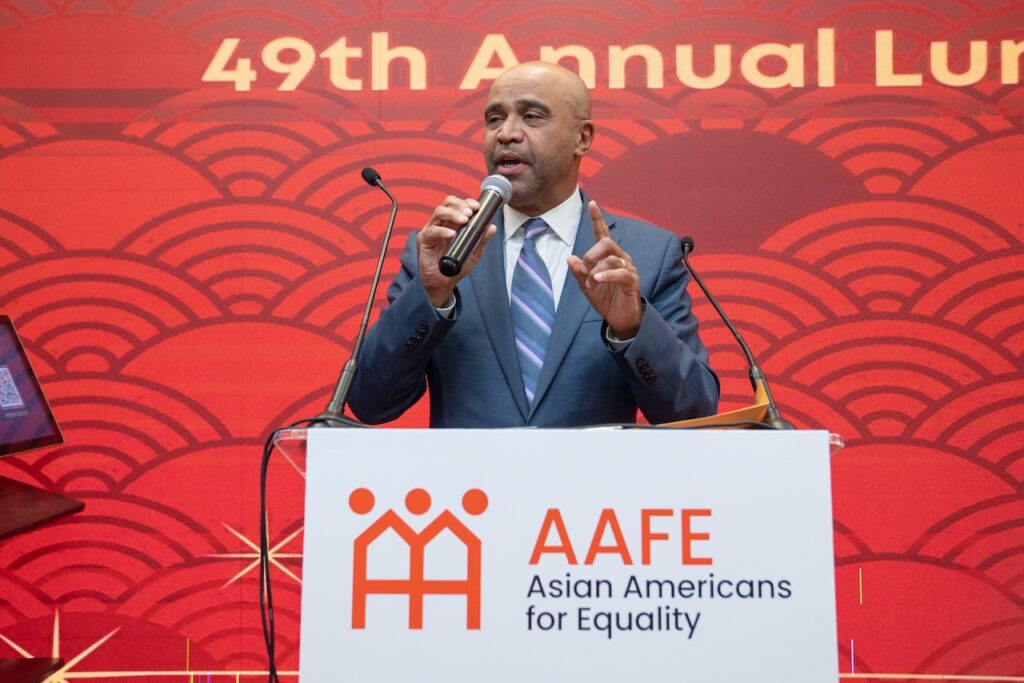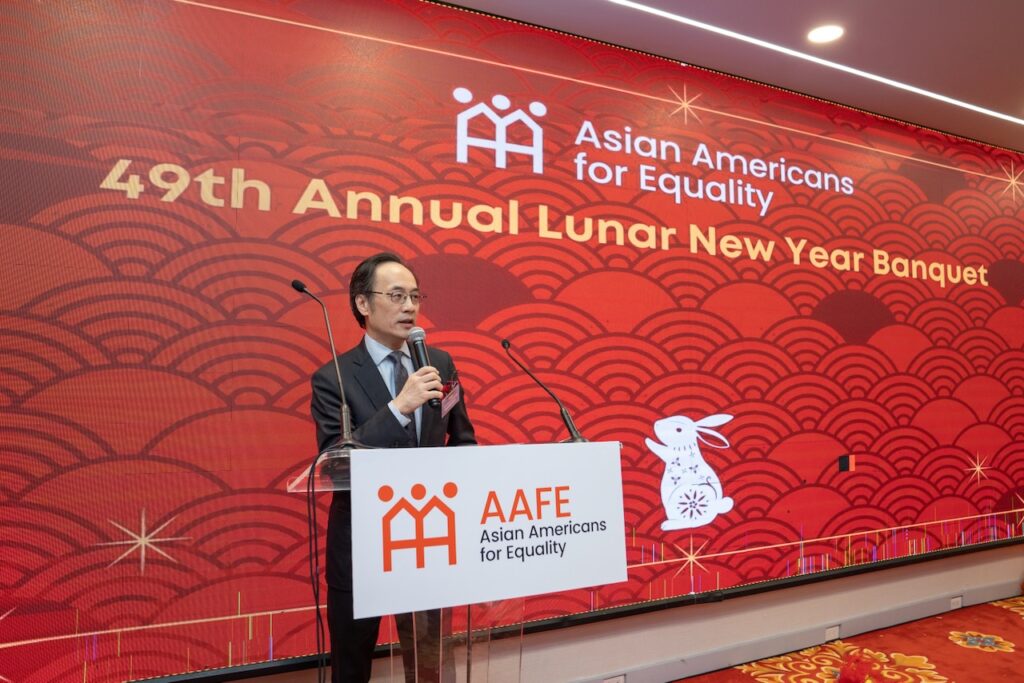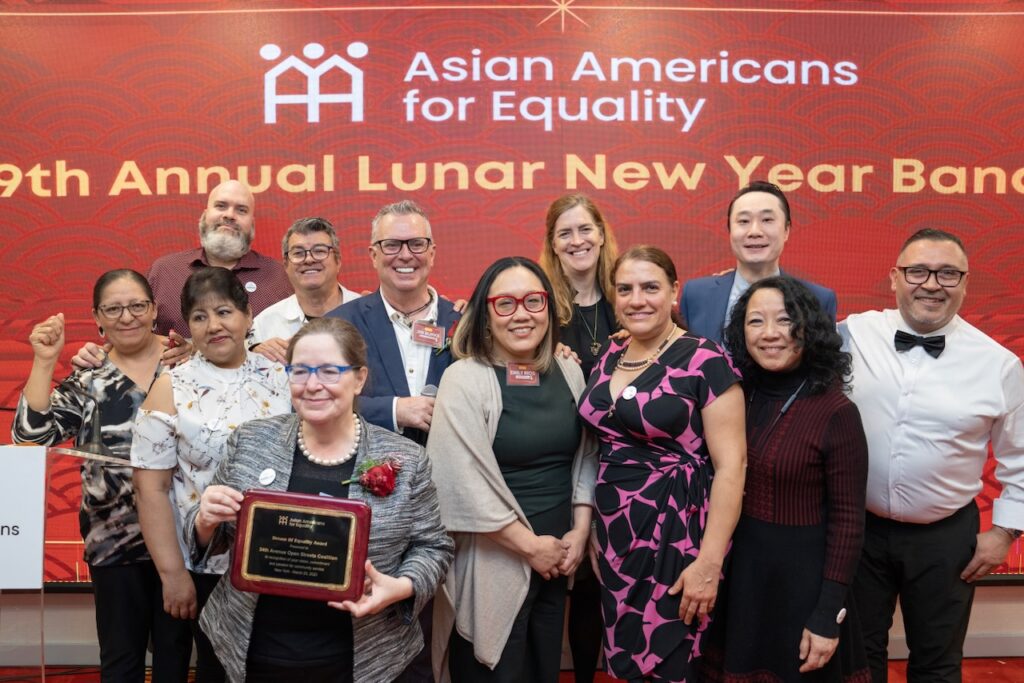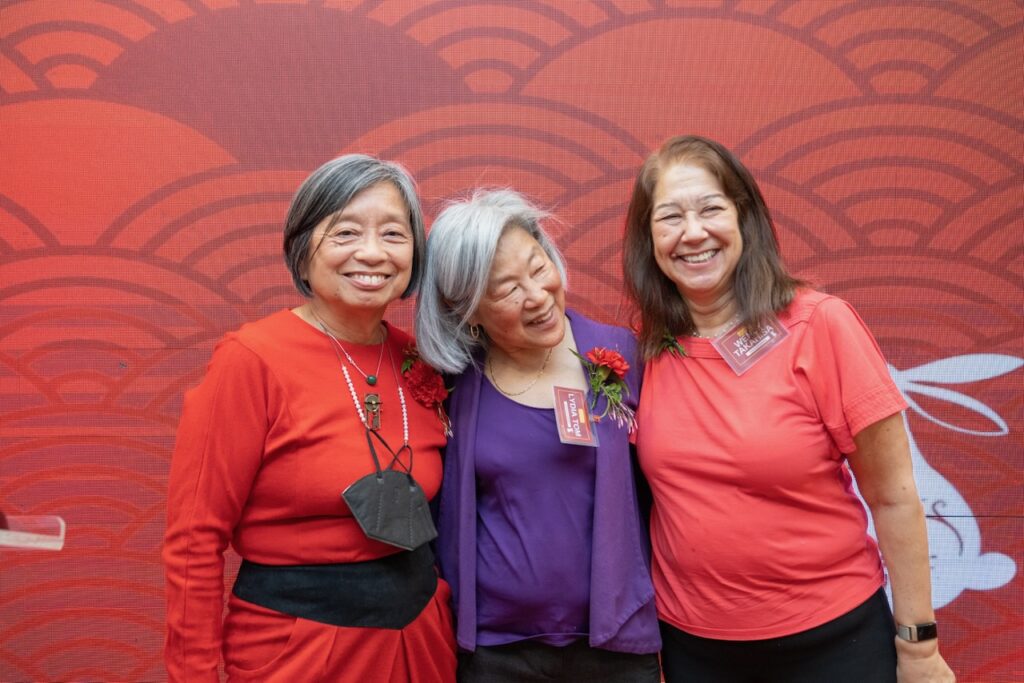 More about AAFE's 2023 honorees:
Adolfo Carrión Jr. – Mr. Carrión has spent his professional career working to build and improve historically marginalized communities. He is currently Commissioner of the New York City Department of Housing Preservation and Development. He previously served as Bronx Borough President and as a member of the New York City Council. Mr. Carrión was a regional administrator for the U.S. Department of Housing and Urban Development, deputy assistant to President Barack Obama and director of the White House Office of Urban Affairs. He also served as president of the National Association of Latino Elected Officials. He has a long and distinguished record of creating affordable housing in New York City and beyond both in the private and public sectors.
Asian American Bar Association of New York (AABANY) – Through its Pro Bono and Community Services Committee, AABANY offers free legal clinics to community members throughout New York City. During the pandemic, AAFE partnered with AABANY for bi-monthly clinics in Flushing. More than 250 people received 30 minute consultations from volunteer attorneys last year to help resolve housing and immigration cases, and to address other issues, as well. Through AAFE as well as several other nonprofit organizations, AABANY provides invaluable assistance to our community citywide, making culturally and linguistically appropriate legal services available to one of New York's most underserved and vulnerable populations.
34th Avenue Open Streets Coalition – During the pandemic, the Jackson Heights community benefited greatly from a new grassroots organization, the 34th Avenue Open Streets Coalition, which not only helped build neighborhood cohesion but also made essential resources accessible to everyone who needed them. AAFE has partnered with the coalition to expand access to our housing and social services across Jackson Heights and neighboring communities. The group has created a new, dynamic public space which has not only made our streets safer but provided the community with new cultural programming, opportunities for collaboration and access to culturally relevant services.
Jackie Huey – For 34 years, Jacqueline Huey served as a member of the AAFE Board of Directors, providing invaluable insight and leadership as well as continuity as AAFE grew and evolved into a comprehensive community development organization. Starting in her college years and extending to the present day, Huey was (and is) deeply involved in the Chinatown community, supporting many different organizations and causes. She has always been a passionate women's right activist and exemplifies the many dedicated women who co-founded and have led AAFE over the years. We are grateful to Jackie Huey for her dedication and commitment not only to AAFE but to the Asian American community.
We would like to thank our presenting sponsors, New York Community Bank and Con Edison, as well as our other banquet supporters, including: AAD Construction, Goldman Sachs, BNY Mellon, Valley Bank, JPMorganChase, Morgan Stanley, Benchmark Title. Cathay Bank, Global Bank, HUB, Edison Properties, Santander Bank, Goldstein Hall, Monadnock Development, Webster Bank, AAFE Board Member Wendy Takahisa, Archstone Builders, Cooley, Urban Architectural Initiatives, Mount Sinai Hospital, Camber, Enterprise Community Partners, Steven T. Gee PC, ICBC, PL Electrical, Low Income Investment Fund, Hong Guang Construction, Charles Fornier and Bonnie Litt, First Republic Bank, the Beacon Group and A Place for Kids.
See more photo from our 2023 banquet here.
See news coverage of the event in World Journal, Sing Tao Daily and Epoch Times.