‹ Back to News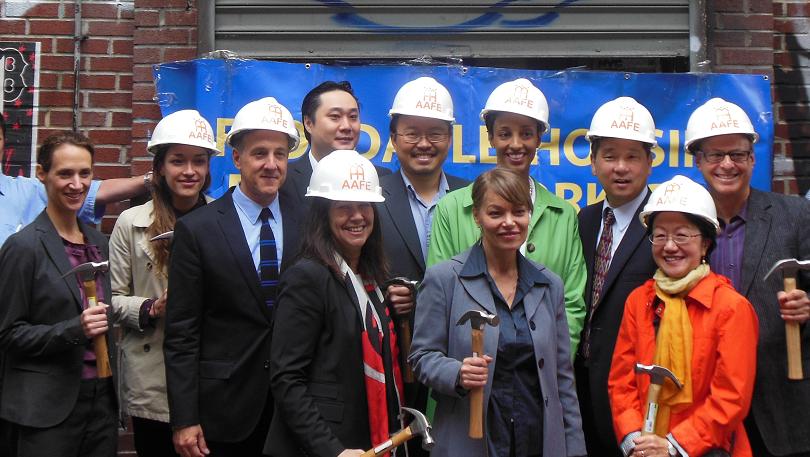 FOLLOW US
The New York City Department of Housing Preservation and Development (HPD) joined Asian Americans for Equality (AAFE), local elected officials, and the tenants of 244 Elizabeth Street to celebrate the start of construction at the five-story Lower East Side property. The building is being rehabbed through HPD's Affordable Neighborhood Cooperative Program (ANCP), with AAFE acting as the developer for the project which is converting the building from a rental to a low-income cooperative that will be owned and managed by the current tenants. When complete, the $3.9 million conversion will create 19 affordable cooperative units and ground floor retail space in the formerly city-owned property. In attendance were HPD Assistant Commissioner Jacqueline Alexander, AAFE Executive Director Christopher Kui, Council Member Margaret Chin, 244 Elizabeth Street Tenant Association President Krista Retto and Neighborhood Restore Executive Director Salvatore D'Avola.
"The tenants at 244 Elizabeth Street have organized, worked hard and earned the opportunity to own and operate the building they've called home for so long," said HPD Commissioner RuthAnne Visnauskas. "Affordable homeownership creates a foundation for stability and allows people to build equity in their neighborhood. I thank AAFE for their continued partnership, Restoring Communities HDFC for its hard work, and Council Member Chin, LIIF, and Morgan Stanley for their support. Most importantly, my thanks to the tenants whose dedication has helped us add a valuable new resource of affordable homeownership to the community."
"AAFE is thrilled that the tenants of 244 Elizabeth Street will become future home owners.   This would not have been possible had it not been for the tremendous leadership of the NYC Department of Housing Preservation and Development," said Christopher Kui, Executive Director of Asian Americans for Equality.  "The City of New York has made tremendous strides making home ownership a reality for countless New Yorkers.  We are thrilled to be community developers on this project."
244 Elizabeth Street is being developed under Mayor Michael R. Bloomberg's New Housing Marketplace Plan (NHMP). The NHMP is a multi-billion dollar initiative to finance 165,000 units of affordable housing for half a million New Yorkers by the close of Fiscal Year 2014. For every dollar invested by the City, the NHMP has leveraged $3.44 in private funding, amounting to a total commitment to date of more than $23 billion which has funded the creation and preservation of over 156,351 units of affordable housing across the five boroughs.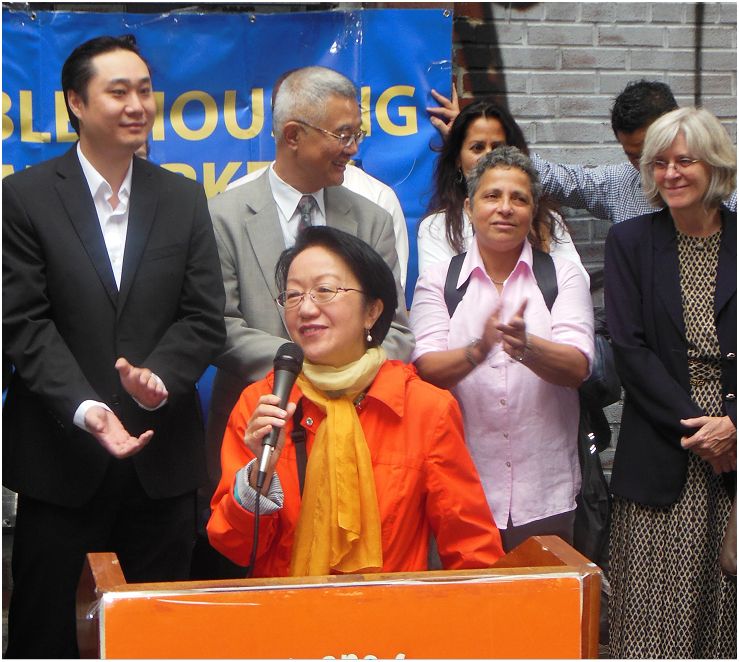 "It has been a long road for the residents of 244 Elizabeth Street, and I am so pleased that their dream of owning a home will finally become a reality," said New York City Council Member Margaret Chin.  "I thank the NYC Department of Housing Preservation and Development, Asian Americans for Equality, and all of the local partners here today for their commitment to a goal we all share: the creation of much- needed affordable housing in our city."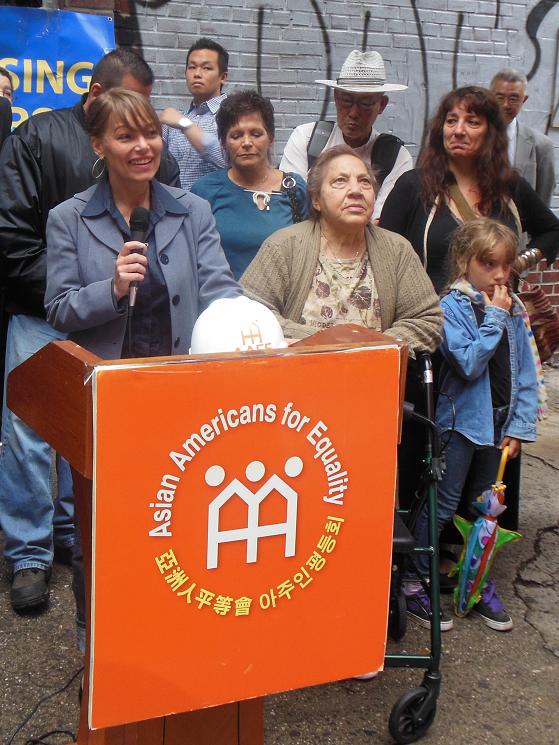 Krista Retto, President of the 244 Elizabeth Street Tenant Association, said, "Waiting more than a decade for this reconstruction to become a reality has been truly challenging for the tenants of 244 Elizabeth Street. In the waiting, children have grown up away from their homes, and we've even lost some of our elder tenants. But, we are also grateful." She added, "Most of the tenants were born and raised in this building. Some of them, like me, moved in as hungry but hopeful students. This is our home. We've participated alongside HPD, the Community Renewal Program and AAFE, taken classes, learned how to manage a building, create a viable co-op, and, overall, better ourselves and our neighborhood. We are excited and enthusiastic to move back and offer others the same chance we were given, and prove that a launchpad like affordable housing can indeed bring improvements to our whole community."
244 Elizabeth Street was built around 1900 and ownership was transferred to the City via the in-rem tax foreclosure process in 1977. The aging building is in need of substantial rehabilitation work which AAFE will provide as the project's developer. AAFE has acted as a developer of affordable housing in the community since 1988, and has worked with HPD through a variety of its programs.
The construction work will include structural repairs, major systems replacement (electrical, heating and plumbing), and layout changes that will include creating a new shared staircase for both buildings and adding living space to apartments. One ground floor apartment is being converted to a commercial space, restoring a use that was originally present in the building. Rent from the new commercial space will help support the operating budget of the cooperative. The building is currently vacant and 13 existing tenants were temporarily relocated by HPD, with all expected to return to the building after the construction is complete.
"We are pleased to support AAFE's investment in this vital effort to provide affordable housing in our New York City community," said Audrey Choi, Managing Director and Head of Global Sustainable Finance at Morgan Stanley.  "This project symbolizes what can happen when the public, private and nonprofit sectors come together to improve the quality of life of our most vulnerable citizens."
The rehabilitation work and conversion from a rental property to a low-income cooperative are being undertaken through HPD's Affordable Neighborhood Cooperative Program (ANCP), and has been assigned to AAFE who was selected as the developer based on criteria in the program's Request for Qualifications. The ANCP is designed to assist organized tenant associations in City-owned buildings to develop economically self-sufficient low-income cooperatives where tenants purchase their apartments for a nominal fee after the conversion is complete. The program provides training to tenant associations in building management and coop policies, maintenance, and financial recordkeeping.
"Restoring Communities HDFC is proud to partner with HPD on a program that fosters the development of affordable homeownership opportunities for low income New Yorkers," said Salvatore D'Avola, Executive Director of Neighborhood Restore. "We are excited about the rehabilitation starting and look forward to the day when the residents are again able to occupy the building and call it home."
During City-ownership, rehabilitation is funded by HPD through a combination of City and Federal sources. At construction loan closing the property will be conveyed to Restoring Communities Housing Development Fund Corporation, an HPD-sponsored non-profit affiliated with Neighborhood Restore Housing Development Fund Corporation, which will take temporary ownership of the property, secure homebuyer assistance grants from the New York State Affordable Housing Corporation (AHC) and provide oversight of the rehabilitation and cooperative conversion process.
The total development cost of the rehabilitation project is $3.9 million. HPD is providing $1.7 million in City capital funding, and $2 million in funding via a participation loan through the Low Income Investment Fund, with the balance consisting of developer equity and reserve funds.
To view more photos from the press conference, please click here.