‹ Back to News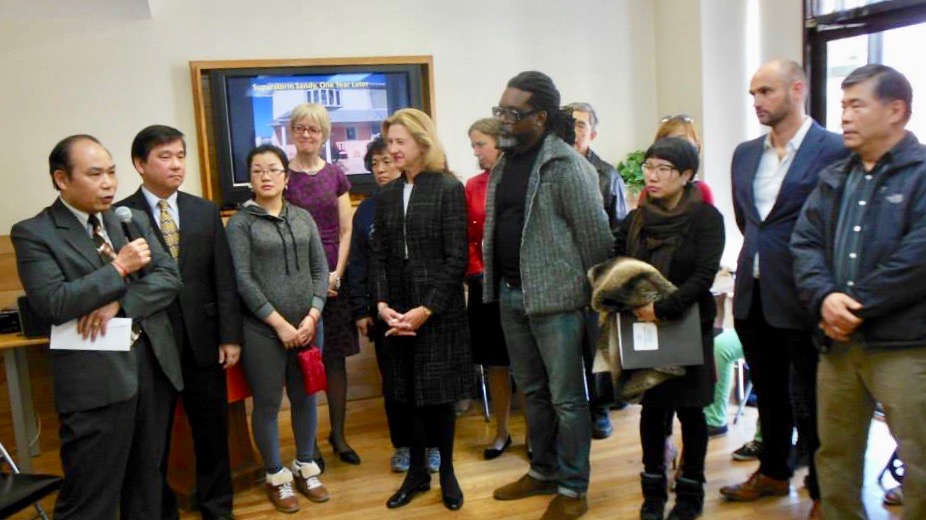 FOLLOW US
Local residents, community leaders, small businesses, and elected officials joined Asian Americans for Equality (AAFE) to mark the one year anniversary of Superstorm Sandy.  Superstorm Sandy was the most challenging disaster New York City faced since September 11.  For AAFE, not only were the agency's affordable housing properties located in an impacted area, all of Lower Manhattan was completely paralyzed after the storm.
AAFE's constituents living in Queens, Southern Brooklyn, and Staten Island were without power while their homes were heavily damaged by rain and wind. AAFE Executive Director Chris Kui stated, "Superstorm Sandy challenged service providers like AAFE to respond in ways we never would have imagined.  One year later, many parts of the city still have not fully recovered from this disaster.  It is imperative that all New Yorkers come together on the one year anniversary to discuss what needs to be done and how we can be better prepared in the future.  AAFE looks forward to collaborating with our community partners to make a full recovery a reality."
"Citi is committed to working with public and nonprofit organizations to implement programs that will equip New York City's communities hardest hit by Superstorm Sandy with the resources to rebuild," said Helen Steblecki, Citi Community Development Officer for Manhattan and Staten Island.  "We are so pleased to partner with AAFE in its continuing efforts to assist small businesses and homeowners affected by the Storm."
Immediately after the storm hit, Renaissance Economic Development Corporation, an AAFE affiliate, announced an emergency loan fund for small business owners citywide.  The fund provided loans up to $30,000 for small businesses that needed immediate working capital for repairs, inventory replacement, and cash flow to stay in business.  Loan checks were being cut as rapidly as two days after the disaster as emergency stop-gaps against longer FEMA and SBA turnaround times, and currently 164 businesses to date have received more than $3 million from Renaissance.
Last November, Renaissance received funding from the Partnership for New York City that made available over $300,000 in grants for New York City businesses south of Canal Street most impacted by Hurricane Sandy.  The grant program provided additional financial assistance for local businesses that already received low-interest loans through Renaissance's Emergency Loan Program. "One year after Hurricane Sandy, businesses in Lower Manhattan are still in the process of rebuilding. With the help of these much-needed funds, the Partnership  Fund for New York City hopes to accelerate recovery and get people back to work in some of the city's hardest hit neighborhoods," said Maria Gotsch, President and CEO of the Partnership Fund for New York City.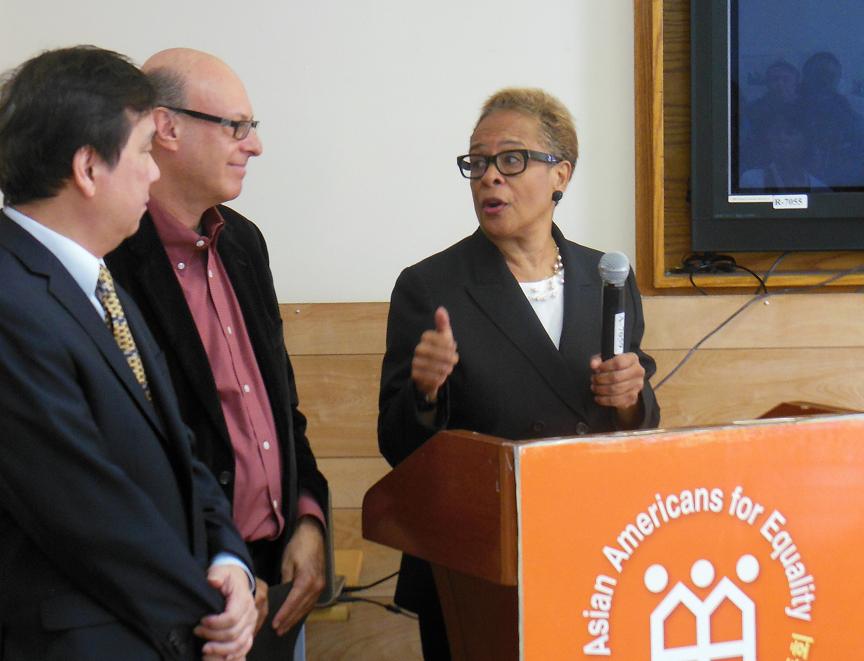 "Home matters to all of us, especially those who are repairing and rebuilding after Superstorm Sandy," said Deborah Boatright, vice president, northeast region, NeighborWorks America.  "Working closely with affiliates like Asian Americans for Equality, NeighborWorks America continues to be there for those affected, applying lessons learned from the Gulf Coast and 35 years in community development and providing resources that help them rebuild and get back safely into their homes."
"The programs that we need to fully recover did not all exist when Sandy hit.  The Partnership's and AAFE's grants are playing a key role in the recovery of Chinatown's small businesses and our entire community," Senator Daniel Squadron said. "And, now, we must continue to make sure all of our businesses and neighborhoods are getting the support they need to recover and thrive — and put in place the programs and improvements that will prepare us next time we need to be."
"Although Chinatown and Lower Manhattan have come a long way in the year since Superstorm Sandy, it is clear that there is still much work ahead to prepare our homes and small businesses for future weather emergencies," said New York City Councilmember Margaret Chin.  That is why organizations such as AAFE and The Partnership are so essential –they are focused not only on recovery, but on resiliency, and proactively engage communities to ensure that they have the support and resources they need to safely weather any storm."
Shortly after Sandy, AAFE Community Development Fund (AAFE CDF), AAFE's homeownership affiliate, announced an emergency loan fund for homeowners citywide for emergency repairs as insurance companies had not been sending inspectors and adjustors due to the inundation of calls from homeowners. As of September 30, 2013, AAFE CDF closed 50 emergency loans for Sandy victims.  The total amount is $1,159,440.  In addition, $178,000 in grants has been provided to 18 victim homeowners.
Mariadele Priest, Capital One Vice President of CRA Housing Development said, "Capital One is pleased to join with Asian Americans for Equality to help homeowners impacted by Superstorm Sandy.  Capital One provided low cost capital and grant support to enable AAFE to make emergency repairs loans to help eligible homeowners start the difficult process of rebuilding after the storm."
Shola Olatoye, Vice President and New York Market Leader for Enterprise Community Partners, Inc. , said, "Enterprise commends AAFE for its leadership in building capacity throughout New York's Sandy-affected neighborhoods. AAFE has spearheaded nimble and creative initiatives to help residents and business owners quickly recover from the effects of the storm.  Enterprise is fortunate to partner with AAFE as we create tools and protocols for disaster preparedness in the multifamily affordable housing sector, sharing lessons learned with housing owners in the region and beyond."
"One year after Hurricane Sandy devastated so many communities, we at New York City LISC are reminded each day that there is still a tremendous amount yet to be done to get all affected New Yorkers back in their homes and their communities fully functioning," said Denise Scott, Managing Director of New York LISC.  "But thanks to our community partners, such as AAFE, we have been able to give some relief to residents in the neighborhoods that were most impacted by the storm.  Like LISC, AAFE was in these communities before the storm, in the immediate aftermath of the storm, and will be there long after the storm recedes in memory. We salute your resiliency and are grateful for your partnership, advocacy and hard work."