‹ Back to News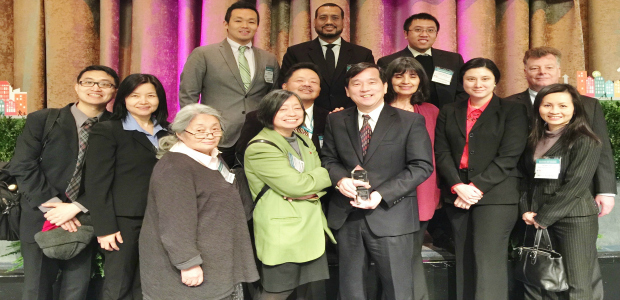 FOLLOW US
On December 10, Asian Americans for Equality was named Non-Profit of the Year at the New York Housing Conference and National Housing Conference 41st Annual Awards Program. The event, held at the Hilton hotel in Manhattan, celebrated the achievements, creativity, and best practices of leaders in affordable housing.
AAFE first branched into affordable housing development in 1985 when, after a devastating Chinatown fire displaced over 100 local residents, the organization partnered with local elected officials and secured financing to purchase two buildings for temporary and permanent low-income housing. Since then, AAFE has preserved and developed 86 buildings, creating more than 800 units of housing in the process. It has also served nearly $300 million in mortgage financing for aspiring homeowners.
"It is such an incredible honor for AAFE to receive the Nonprofit of the Year Award, especially as we celebrate our 40th Anniversary this year," said AAFE Executive Director, Christopher Kui as he accepted the award. "Over the last 40 years, AAFE has evolved from a community advocate to a nationally-recognized community builder. To that end, I want to acknowledge the hundreds of organizers and advocates who started AAFE in the 70s, with special thanks to our current Board and staff who work day-in and day-out to make our city a better and more equitable place for all of us to live and thrive."
Former President of the Federal Home Loan Bank of New York (FHLBNY), Alfred A. Dellibovi was also honored. Mr. Dellibovi, who held his position at the FHLBNY for over 20 years, was presented with the Clara Fox Award for Outstanding Achievement. Rella Fogliano, president of the Macquesten Companies, was named Private Developer of the Year. Darryl C. Towns, Commissioner/CEO of NYS Homes and Community Renewal, was presented with the Public Service Award.