‹ Back to News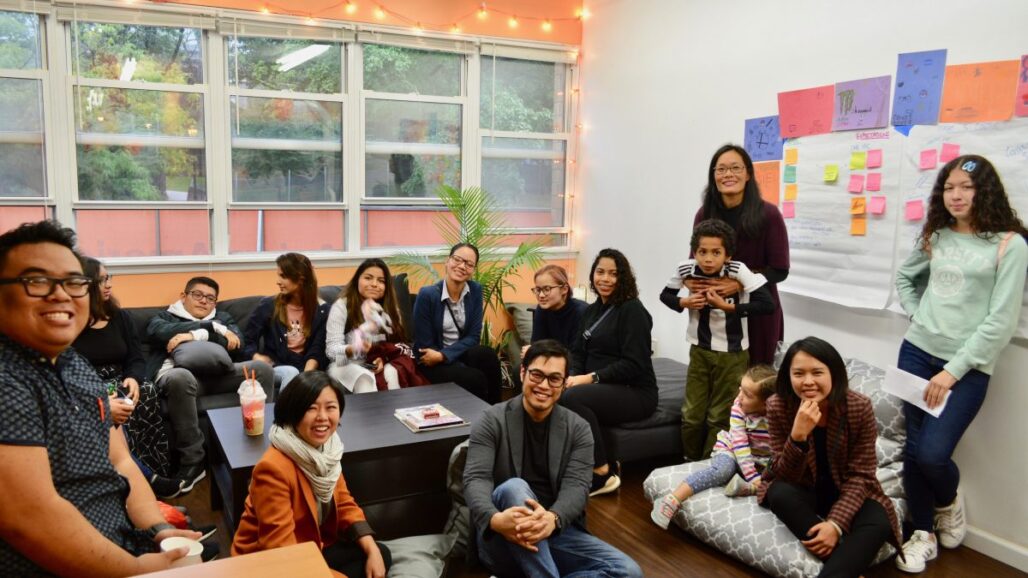 FOLLOW US
AAFE hosted a grand opening celebration Oct. 9 for its brand new Youth Center + Intergenerational Digital Lab, a vital community resource directly across from Flushing High School.
While AAFE's after school program has been a Flushing mainstay for more than a decade, the Youth Center provides a second home for students, a dedicated safe place to meet, participate in workshops, attend college counseling sessions and to connect with the larger Flushing community. The facility, located on the second floor of AAFE's offices at 35-34 Union St., includes an Intergenerational Digital Lab, outfitted with 30 laptop computers. The lab was funded through a $40,000 Spectrum Digital Education Grant.
The Youth Center was inspired by AAFE's student leaders, who envisioned the new space and led a grassroots fundraising drive to turn their idea into reality. A successful GoFundMe campaign in August raised more than $5,000 from more than 60 donors and AAFE matching funds.
"AAFE's inspiring youth leaders saw this project through with incredible energy and imagination, and we couldn't be happier about what they've achieved" said Jennifer Sun and Thomas Yu, AAFE's co-executive directors. "The Youth Center and Digital Lab will not only serve our immigrant youth, but also the larger Flushing community through an innovative digital skills training program for low-income families and seniors. We thank Spectrum for its generous support, as well as everyone in our community who made this center possible through their donations."
Gabriel Hisugan, program manager of AAFE Youth & Family Development said,  "I'm so proud of what our students have accomplished just this past summer. They've advocated for, fundraised, painted, set up the furniture, and decorated this space to benefit themselves and their peers. The AAFE Youth Team works hard to empower low-income immigrant youth in Flushing to develop themselves, build their leadership and serve their community. With this Youth Center, we will have our own, welcoming, truly youth centered space to conduct after school sessions, karaoke nights, college workshops, board games, counseling sessions, homework help and so much more!"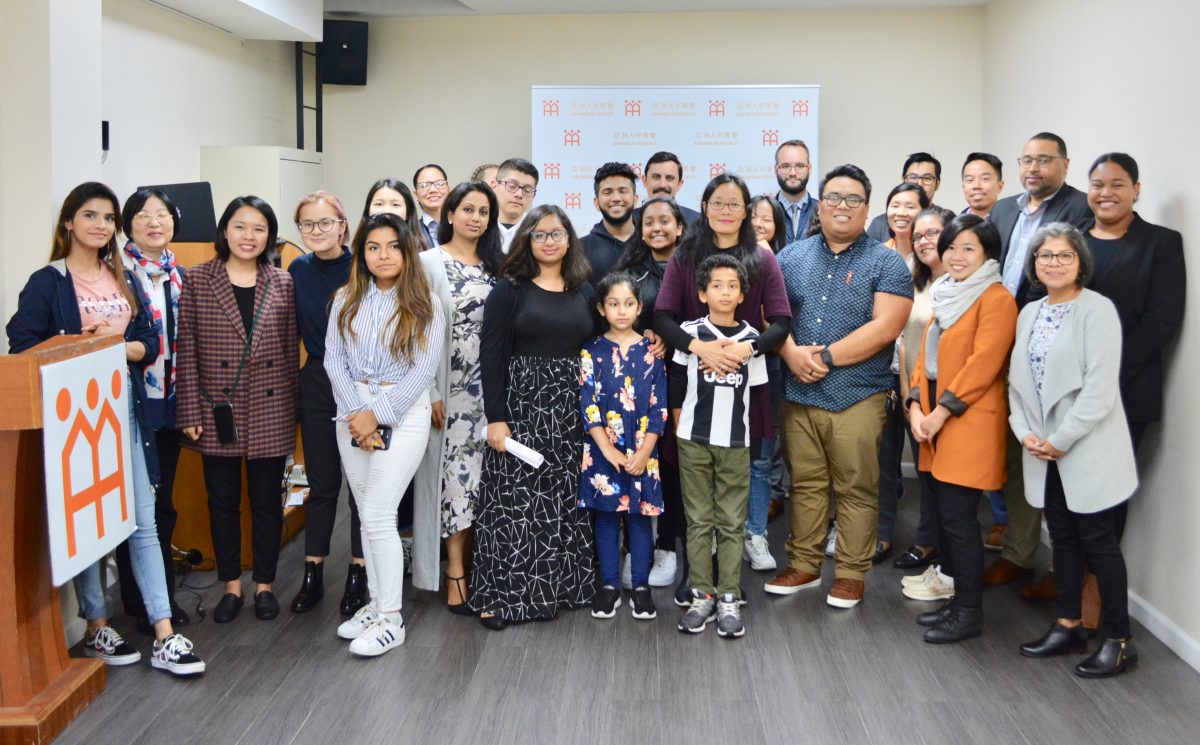 During the grand opening celebration, students talked about their experiences in the AAFE Youth Program.
Sofhia Sikdar, who attends Queens High School for Language Studies, said, "AAFE is just like a second home and everyone has become a part of my family… Since I joined, I have been surrounded by love and unending support and my self esteem has been building up. I still have a lot of work to do but I know I won't be alone in the process."
Barbara Martinez, a freshman at Fordham University and alumnus of Flushing High School, also spoke.  She said AAFE staff helped her get through some really tough emotional times. "AAFE was really helpful because they counseled us, they advised us throughout the college process," said Martinez. "AAFE opens the door for individuals to meet other people, you meet people who are younger and older, you make connections, you make new friends."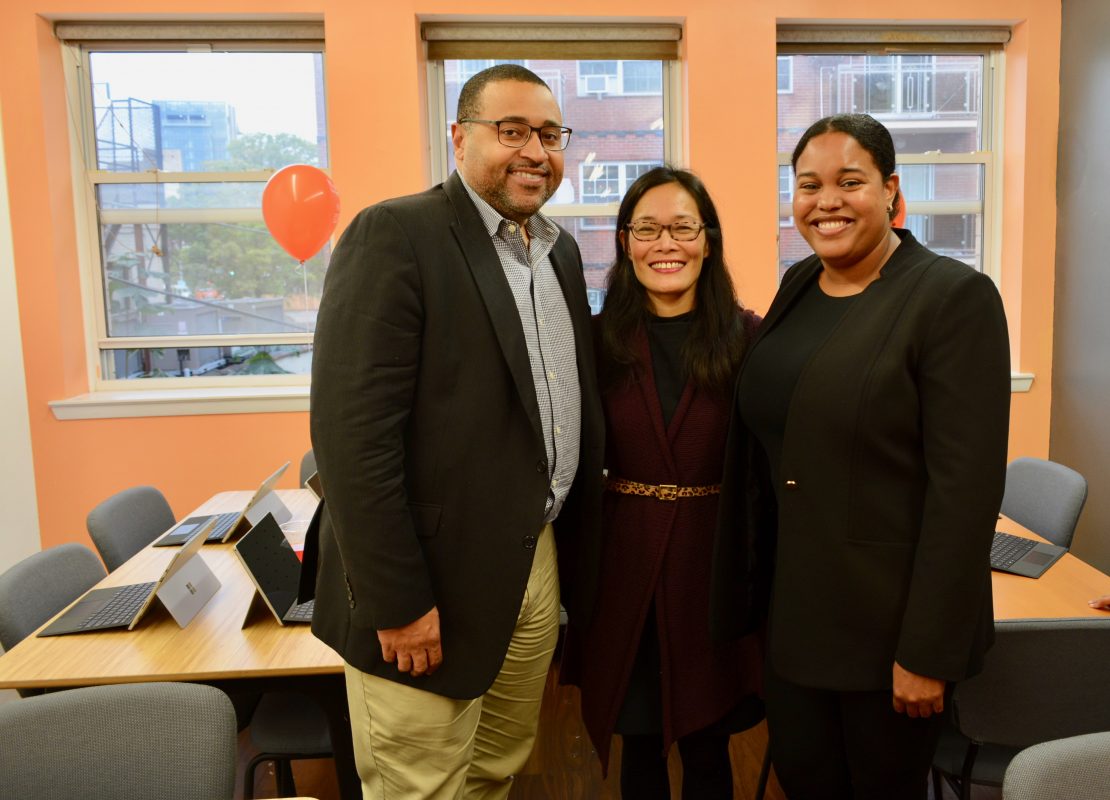 Earlier this year, AAFE and Spectrum celebrated the grant award. At the time, Rodney Capel, vice president, government affairs at Spectrum, said, "In our increasingly technology-driven world, the importance of digital education and access to digital resources cannot be overstated. Through the Spectrum Digital Education Grant Program, we partner with leading community organizations like Asian Americans for Equality to help bridge the divide and provide communities in need with the tools to grow and prosper in the digital age."
"Flushing High School is very proud and grateful of its partnership with AAFE," said Ignazio Accardi, principal of Flushing High School. "The work of AAFE in our school has helped countless students go on to success in college and beyond. On this very special day, our school congratulates AAFE on the opening of their new Youth Center. We wish AAFE great success in serving our students and community for many years to come. Thank you for being an amazing partner and we look forward to many more years of collaboration to come."
Melanie Lee, principal of Queens High School for Language Studies, said, "Congratulations to AAFE on the grand opening of your Youth Center!  AAFE has been a true partner in supporting our community, from students to families to our faculty. AAFE's programs for our students, in particular their after school COMPASS program and their summer Youth Leader program, have provided opportunities for our students to develop leadership and communication skills beyond what we provide in our classrooms. They then take these skills into their colleges and careers with confidence. I'm so thrilled to see AAFE's resources grow, with this new safe space for our youth within the Flushing community, and I look forward to our continued collaboration!"
Rosemary Mikszewski, assistant principal of Flushing International High School added, "We have worked together with AAFE for many years, and we are very thankful  that they have provided us through their programs, not just community engagement and college access, but also has provided spaces like this one, so I'm very excited to have our students benefit from this new Youth Center."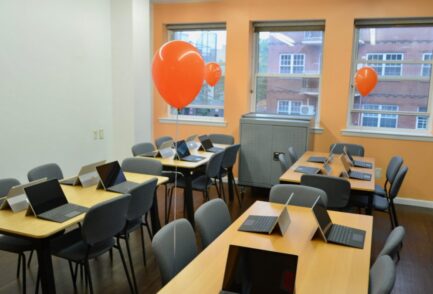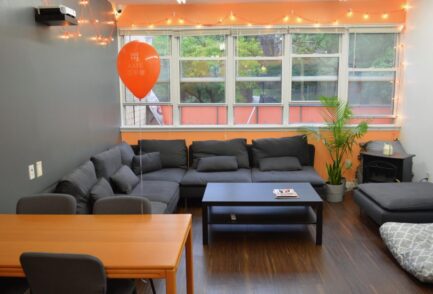 AAFE youth will play a major role in the Intergenerational Digital Lab, hosting workshops to help immigrant and limited-English proficient community members build their computer skills. AAFE is partnering with Queens Library to design the curriculum. The lab will serve families and seniors in the Flushing area, as well as in other neighborhoods such as Elmhurst, Corona and Jackson Heights. The lab will be integrated into AAFE's Workforce Development Program, which serves almost 300 immigrant job seekers annually, and is also based at 35-34 Union St.
Students have always come to AAFE's office for group events and one-on-one counseling, but they did not have a space to call their own until now. The opportunity to establish a Youth Center presented itself when AAFE's immigration, immigrant small business and homeownership offices moved earlier this year to One Flushing, AAFE's new mixed-use building in Downtown Flushing.
AAFE established its youth leadership and college access programs in 2009. Student leadership is cultivated through an after school curriculum which fosters critical thinking skills, civic leadership and college/career readiness. Through our Youth Leadership for College Access Program, students are trained to assist their peers in completing college and financial aid applications. The Castle Immigrant Youth Leadership Program and COMPASS High Program are focused on college readiness as well as service learning, job shadowing and college visits. Each year, AAFE hosts a Flushing Career Conference, attended by 120 students.  The Youth Program is operated in collaboration with Flushing High School, Flushing International High School and Queens High School for Language Studies.