‹ Back to News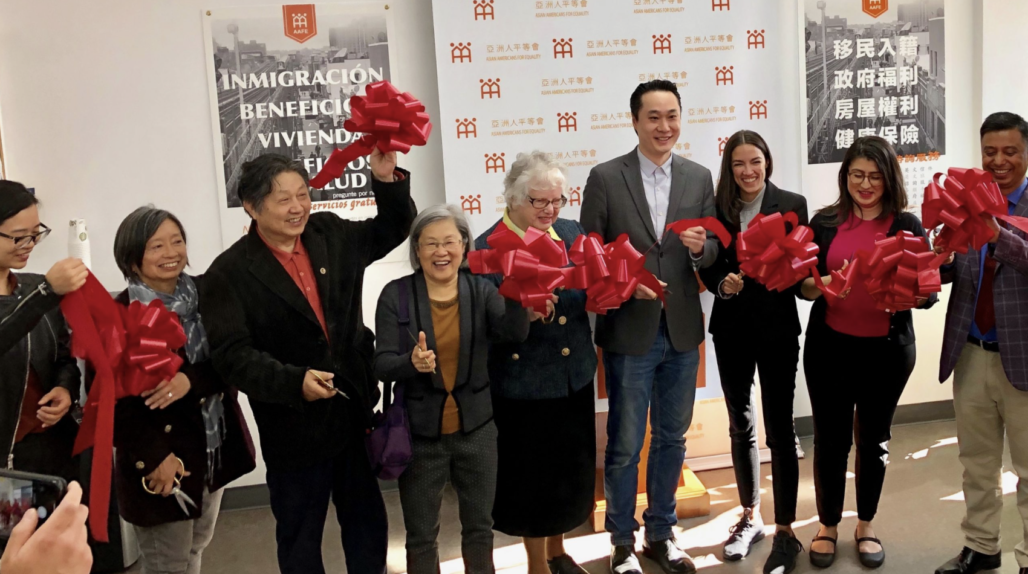 FOLLOW US
AAFE) opened a new Community Services Center in Jackson Heights, Queens April 16, with U.S. Rep. Alexandria Ocasio-Cortez joining other elected officials and community leaders in a ribbon cutting ceremony.
The office will offer expanded housing, immigration, senior and small business programs in one of New York City's most dynamic neighborhoods. The ADA-accessible space is located at 37-61 84th St., near Roosevelt Avenue.
In remarks before the ribbon cutting, Rep. Ocasio-Cortez said, "I'm just proud to be a part of this community." The newly elected representative from the 14th Congressional District, including the Bronx and sections of Queens, has quickly become one of the highest profile political figures nationwide. Last month, she opened a district office in Jackson Heights. "We just moved in a couple blocks down,"noted Ocasio-Cortez, referencing other elected officials with a presence in the neighborhood. "What is lovely is that we're really generating a beautiful ecosystem of advocacy here in Jackson Heights.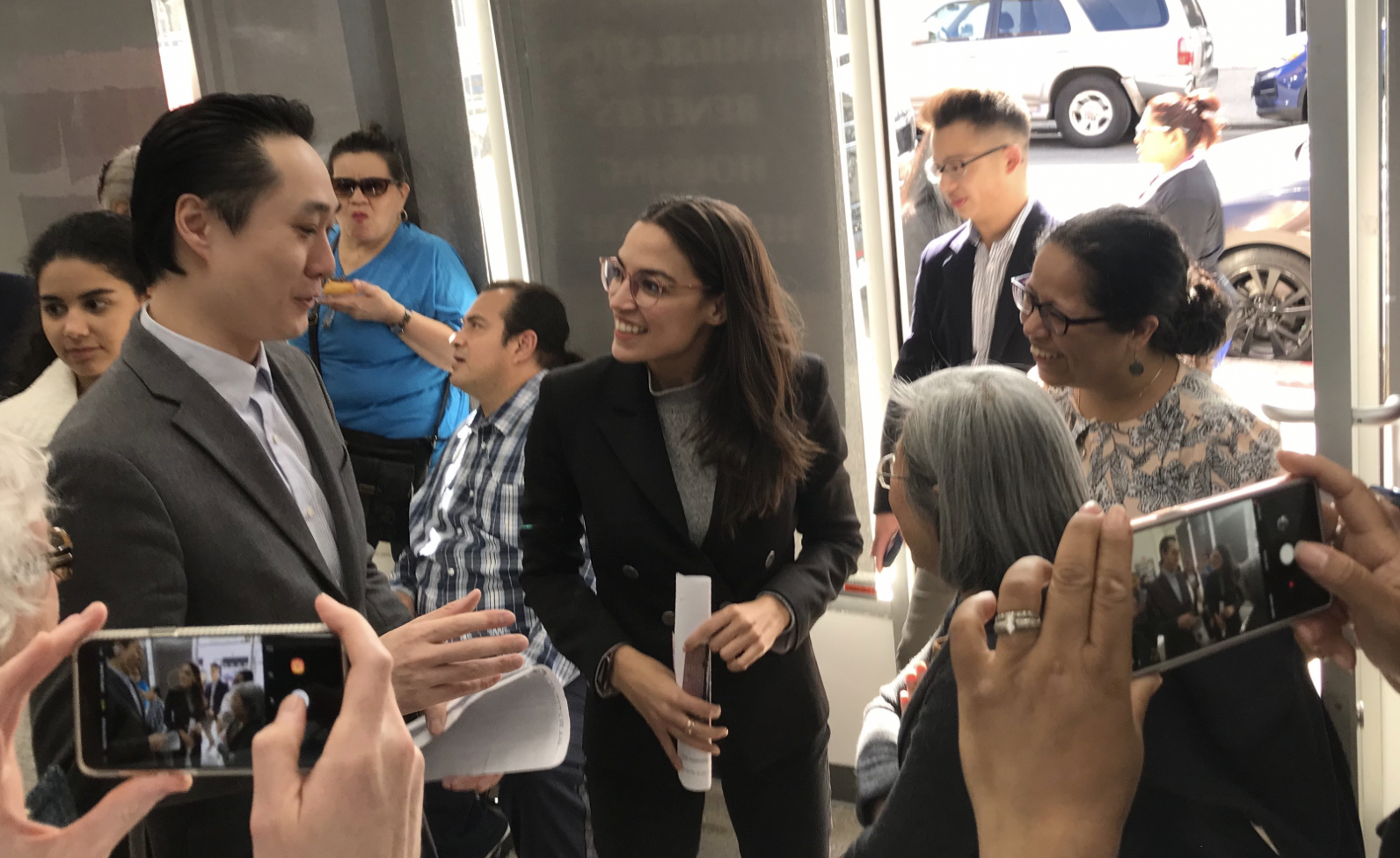 In a recent Congressional hearing, Congresswoman Ocasio-Cortez highlighted the case of a family in her district who faced harassment from their landlord, due to their immigration status. AAFE had brought this case to the attention of the Congresswoman's office. This type of information sharing from grassroots organizers to members of Congress is critical, said Ocasio-Cortez. She explained, "(It's so important) for all of our organizers here in this community to hold these stories, to know what's going on, to stay in touch, to be responsive, to care — so that when we try to be advocates down in D.C… those stories can be told."
AAFE offers community services from offices in Lower Manhattan, as well as Flushing and Jackson Heights in Queens. Counselors are available to help tenants defend their right to safe and affordable housing, assist community members with U.S. citizenship applications, apply for government benefits and secure affordable health care AAFE has operated a Jackson Heights office for several years, but the new location is more accessible and visible to the community. Services are available in multiple languages, including Chinese and Spanish.
AAFE's small business affiliate, Renaissance Economic Development Corporation (REDC) also offers services in the Jackson Heights location, including low-interest loans and technical training.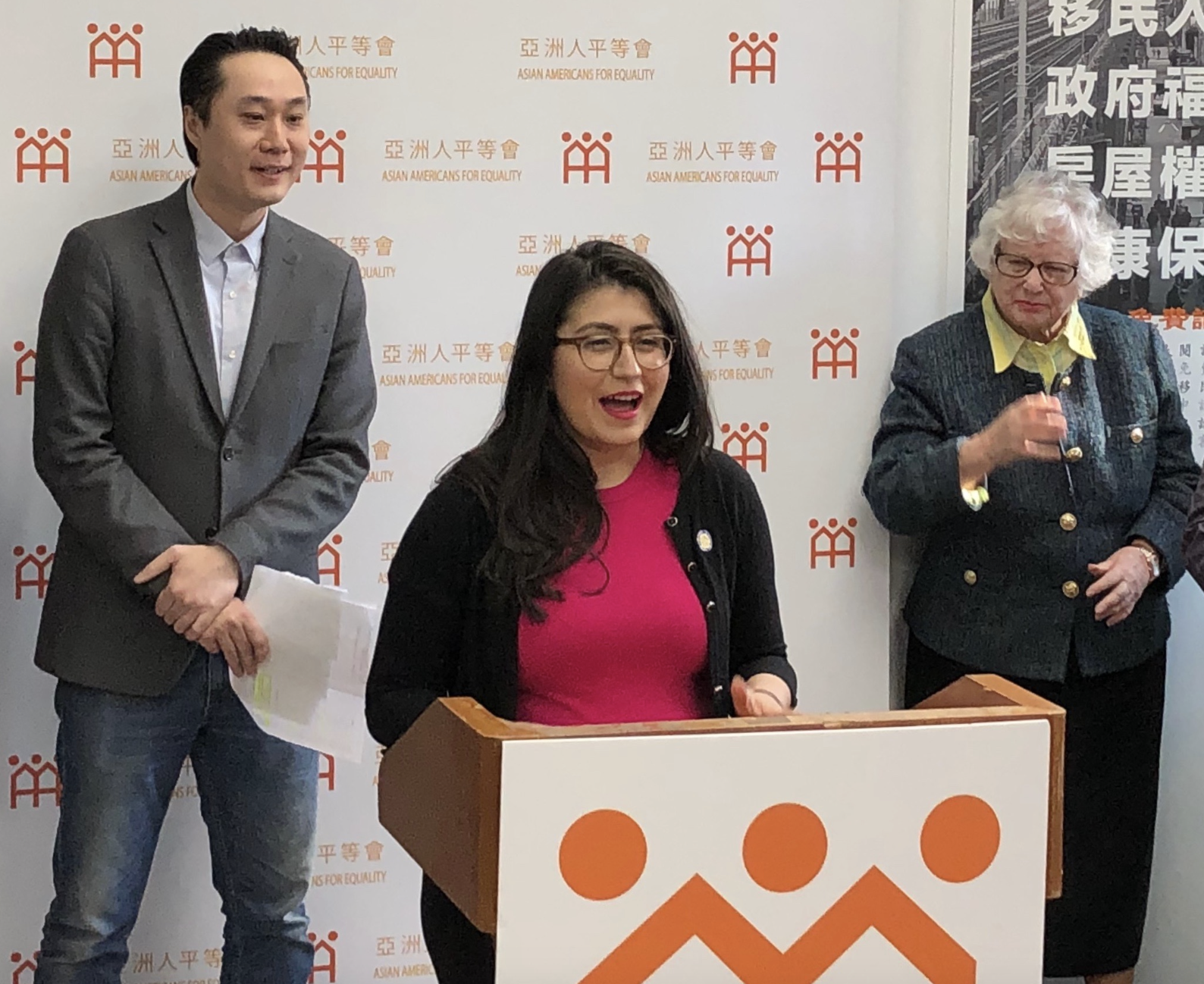 AAFE Co-Executive Director Thomas Yu said, "AAFE has always believed that New York's immigrant communities rise together.This office is emblematic of our commitment to serve an increasingly diverse population." He added, "We're here to provide services, especially in an atmosphere where our immigrant communities, low-income communities, communities of color are under attack.We're here to say we're not invisible, and we'll fight back."
State Senators Toby Ann Stavisky and Jessica Ramos also attended the ribbon cutting. Stavisky said, "I know AAFE is going to continue to (provide services to all in need) in the remarkable way that you've done for 45 years… I look forward to working with you here and also in Flushing (where AAFE has two community offices)."
"When there are so many forces trying to divide us," added Sen. Ramos, "I think it's more important than ever that we support the expansion of community based organizations that have done such great work and that work to help everyone find the dignity in themselves."
Ramos noted that AAFE has been a longtime advocate for affordable housing, equitable public transportation and for quality schools in every community. "These are all fights that AAFE has been in —  helping working class New Yorkers… I'm looking forward to fighting alongside you in the trenches."
The new office will be hosting a robust series of events this spring and summer, offering free resources for the community. They include:
April 25, 6:30 p.m. – Tenant Rights Workshop: Topics to be covered include fair housing requirements, options for affordable housing, strategies for coping with rent increases and maintenance issues in your building.
May 9, 9:30 a.m.-noon – Senior Benefits Day: Community members will be able to access reduced fare Metrocards, learn about naturalization applications, receive help with Medicare and Medicaid applications, and ask questions about other common issues.
May 2, 6 p.m. – REDC Small Business Series: This three part class, offered in Spanish only, will provide training for local entrepreneurs. Topics include: accessing capital, social media/marketing and running an online store.
To register for the Tenant Rights Workshop and Senior Benefits Day, residents should call 718-316-9993. For the Small Business Series, they should contact Elizabeth Au-Hing at 212-964-2288.