‹ Back to News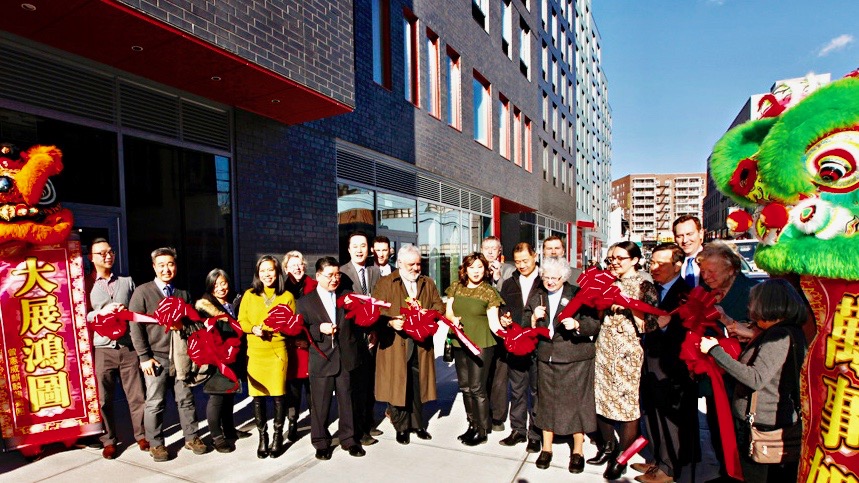 FOLLOW US
It's a new era for AAFE in Queens! A ribbon cutting ceremony was held Feb. 21 at our new building, One Flushing, the largest affordable housing project to come to Flushing in decades.
The state-of-the-art multigenerational project at 133-45 41st Avenue includes 231 affordable apartments, a new headquarters for AAFE community and small business services in Queens, a new AAFE Care Senior Center and local retail. The 10-story building in the heart of Downtown Flushing is located alongside the Flushing-Main Street LIRR Station. The project was co-developed by AAFE, HANAC and Monadnock Development.
At the ribbon cutting, we were joined by City Councilmember Peter Koo and Queens Borough President Melinda Katz, who helped fund One Flushing, as well as U.S. Rep, Grace Meng, State Assemblymember Toby Ann Stavisky and New York State Sen. John Liu. We also hosted Maria Torres-Springer, commissioner of the NYC Department of Housing Preservation  and Development (HPD), NYC Housing Development Corporation (HDC) President Eric Enderlin and representatives from Goldman Sachs and Citi. The project was financed through nearly $116 million in public and private investment.
The ceremony included a traditional lion dance, in recognition of Lunar New Year.
"We are thrilled to welcome the first residents to this transformational project in a neighborhood that AAFE has served for so many years," said Thomas Yu and Jennifer Sun, AAFE co-executive directors. "One Flushing not only addresses a critical need for affordable housing in our community, it will enable Asian Americans for Equality to expand services for empowering immigrants and low-income families to realize their full potential, and supporting the wellness of our multigenerational community."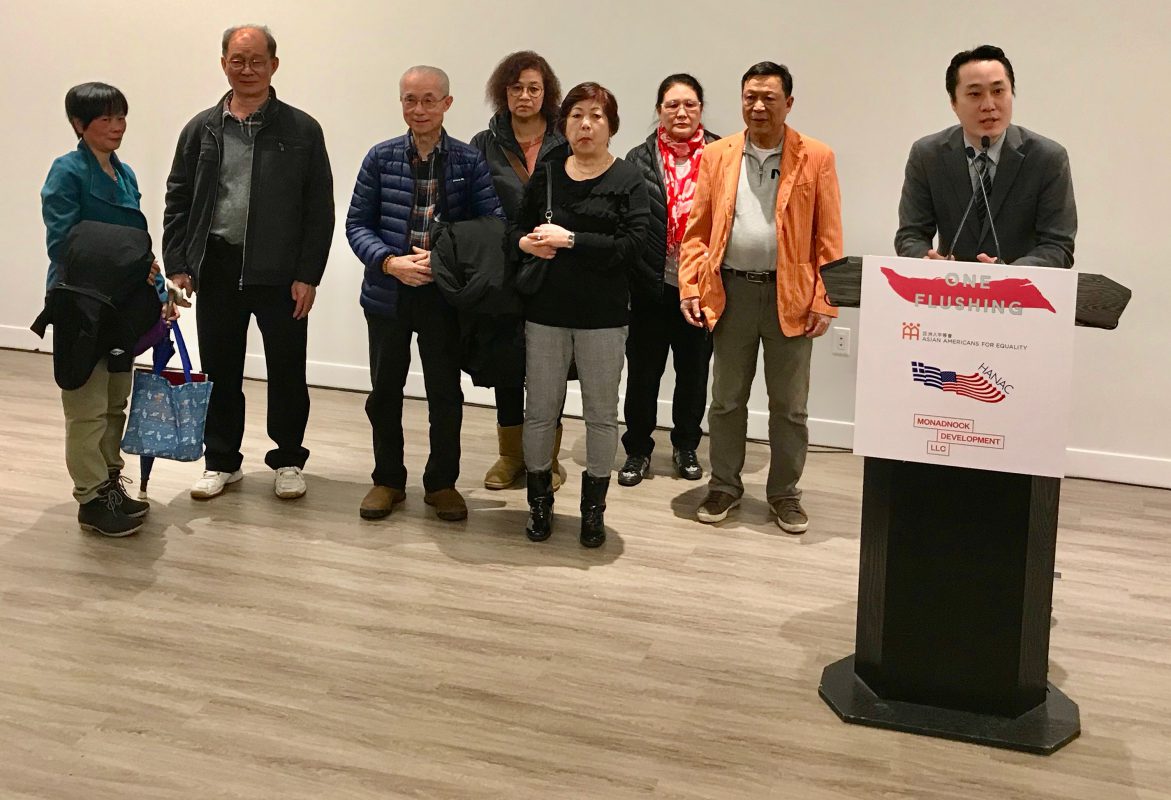 The 10-story project includes apartments ranging in size from studios to 3-bedrooms and serves very low-, low-, and moderate-income individuals and families, and includes 66 units reserved for very low-income senior residents (age 62 or older).  A total of 117 units will be permanently affordable.
In the past several weeks, the first tenants have been moving into apartments designated for seniors. During the Feb. 21 event, Thomas Yu acknowledged those residents, remarking that they are the reason AAFE and our partners were so determined to build a 100% affordable project in Flushing, where new low-income housing has been scarce even as the neighborhood experienced a residential building boom in recent years.
A recent story on NY1 profiled Andre Alexander, a formerly homeless man who has signed a lease for a studio apartment on the third floor.  Alexander has faced tough times since breaking his hip four years ago, and had been living on the streets since last fall. Upon seeing his new home for the first time, he was overcome with emotion, saying, "I just can't believe it… I'm gonna cry. I'm gonna cry."

The City of New York awarded a contract to AAFE, HANAC and Monadnock in 2015 to transform Flushing's Municipal Parking Lot #3 into a vibrant new community resource. One Flushing was the first project to incorporate the city's Mandatory Inclusionary Housing Program (MIH). The 285,000 square foot state-of-the-art complex was completed by Monadnock on time and on budget. One Flushing was designed by Bernheimer Architecture with SLCE Architects serving as executive architect.
One Flushing features 22,000 square feet of ground floor retail space for local Flushing businesses, 15,000 square feet of community facility space, a 24-hour doorman, children's playroom, gym, landscaped rooftop terraces and a rooftop farm, with programming coordinated by GrowNYC and building residents. There are also 156 public parking spaces located in an underground garage. The roof features a 134kW solar array, one of the largest in any multi-family project. The facility includes offices for AAFE's array of immigrant and social services, as well as a branch of the AAFE Care Senior Center, which provides adult day care and other support services for senior residents of One Flushing, as well as for the general public. One Flushing will also serve as a new home for Renaissance Economic Development Corp., AAFE's small business affiliate, which offers low-interest loans and training to immigrant entrepreneurs.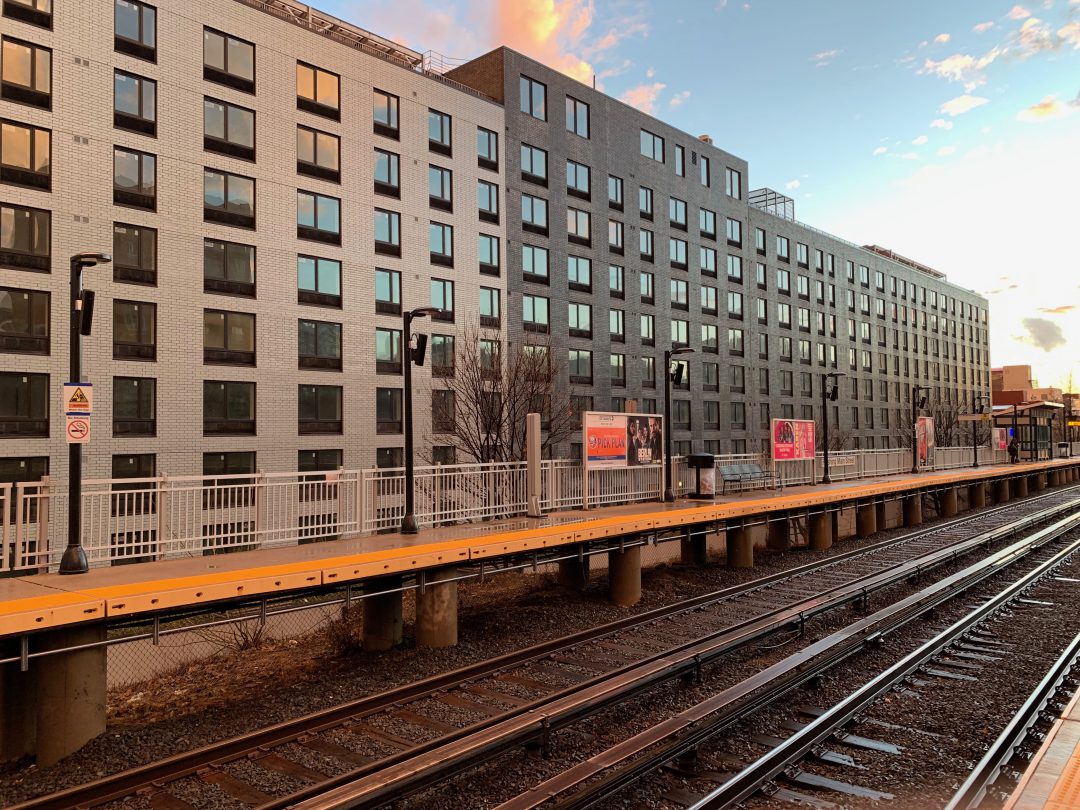 The development team thanked our city partners, HPD and HDC, as well as One Flushing's financial backers, Goldman Sachs and Citi, for their steadfast support. They also expressed gratitude to our elected officials for crucial funding. Councilmember Koo has been an enthusiastic supporter of One Flushing for many years. Not only did he allocate $647,000 for the project, but he also partnered with AAFE to get the word out for the affordable housing lottery for One Flushing, which took place last summer. Borough President Katz allocated $300,000 and has also been very supportive of the project, as has State Assemblymember Toby Ann Stavisky, who is helping to fund our new community center.
"One Flushing is a prime example of a development that is responsive to community needs," said Councilmember Koo."A staggering 84,000 applications were received for only 231 units, clearly demonstrating just how critical it is for our community to build real affordable housing, especially for seniors." He added, "I am extremely grateful to AAFE, HPD and all the stakeholders who stayed focused on the ultimate goal of this project, which was to build community-oriented affordable housing in Flushing. Coupled with a new community space, I see the One Flushing development as a model for the future…"
More exciting developments are in store at One Flushing. In the spring, AAFE will be debuting our new community services facility on the second floor. From this office, community members will be able to access our counseling programs (immigration, government benefits, housing, etc.) We will also be opening a branch of our AAFE Care Senior Center in a beautiful space that includes an outdoor garden and food service facilities. At the same time, AAFE affiliate, Renaissance Economic Development Corporation (REDC) will be opening a new Flushing office to support small businesses.