‹ Back to News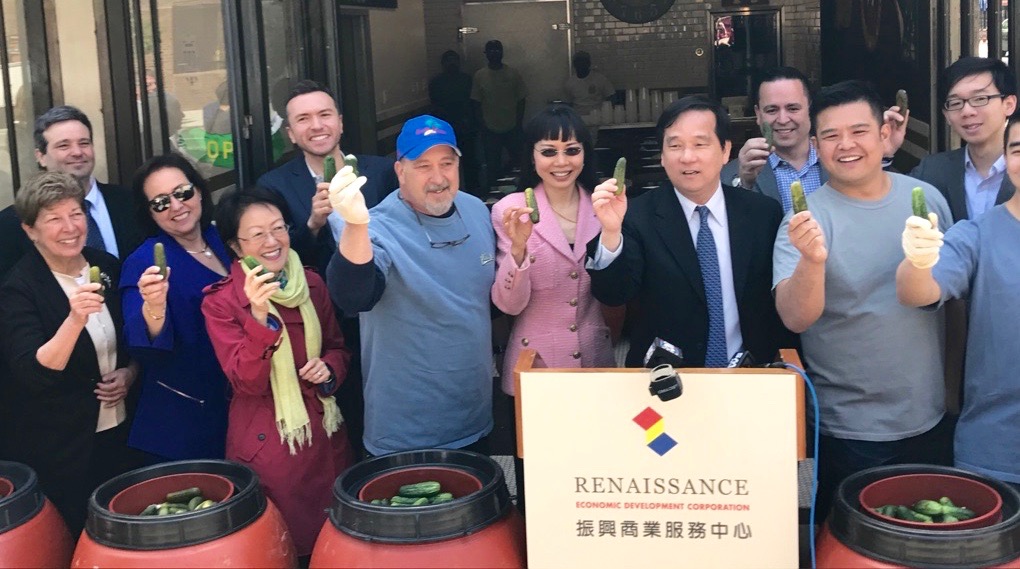 FOLLOW US
AAFE and its affiliate, Renaissance Economic Development Corp. (REDC), helped one of New York's iconic stores, The Pickle Guys, celebrate its grand re-opening on the Lower East Side.
When the beloved local shop was threatened by a rent increase, Renaissance was there to offer technical assistance and to provide a small business loan for a new commercial space. It's the kind of support REDC has been offering entrepreneurs in the communities we serve for more than 20 years.
On May 4, AAFE hosted a grand opening event with owners Alan Kaufman, William Soo and Michael Chu. The Pickle Guys are now operating out of an expanded shop at 357 Grand St., across the street from a smaller storefront the business occupied for 15 years. The new space includes an adjoining restaurant, where customers will soon be able to purchase fried pickles, fried okra, fried mushrooms and even burgers.
"Pickles are a Lower East Side institution," said Christopher Kui, Executive Director of AAFE. "When The Pickle Guys came to us for support, we jumped at the opportunity to help out such a historic small business stay in the neighborhood. And now that they'll be growing with the neighborhood, it's a true testament to their entrepreneurship and adaptability to not just survive but thrive."
Co-owner William Soo said,  "We've seen so many small businesses close after having been open for many years and we feel very lucky to be able to still be a part of this community as small business owners. Throughout our careers we have waited on kids who have grown up, and who now bring their kids in to see us, and we hope to keep this tradition alive at our new location."
Renaissance was recently named the number two micro-lender nationwide. The not-for-profit organization was founded by AAFE in 1997 as part of a broader strategy to sustain New York City's immigrant and low-income neighborhoods. REDC has been on the front lines in Manhattan, Queens and Brooklyn during times of crisis, including 9/11, Hurricane Sandy and the 2nd Avenue explosion that devastated small businesses in the East Village in 2015. Today more than ever, as New York's mom-and-pop shops and restaurants struggle for survival, Renaissance provides critical support to new and existing independent businesses.
Alan Kaufman has been working in Lower East Side pickle stores for more than four decades. In 1995, he hired local youth William Soo to work in his Essex Street store and brought on Michael Chu when Soo enlisted in the military. After Soo finished his service, the trio went into business together in 2001 and The Pickle Guys was born. The shop is the last remaining retail pickle store in a neighborhood once teeming with pickle purveyors.
Jessie Lee, Deputy Managing Director of REDC, said, "The Pickle Guys are a NYC institution that represents the American Dream… Their story is the heart of entrepreneurship. Renaissance is extremely proud to be part of The Pickle Guys story."
Local City Council member Margaret Chin attended the grand opening ceremony. "Nothing can replace the local character, convenience and unique products offered by our small businesses, which is why they deserve our support," said Chin. "Over the years, I've been happy to join my Council colleagues in support of small business programs, and I look forward to continuing to partner with AAFE and Renaissance to keep local enterprises like The Pickle Guys in our community."
"The Pickle Guys has called the Lower East Side home for years now, and I am thrilled that their famed pickle store is expanding to serve our lower Manhattan community," said Assemblymember Yuh-Line Niou. "The Pickle Guys is a prime example of the kind of small businesses that help define and shape the character of the Lower East Side. Congratulations to The Pickle Guys on their expansion, and thank you to Renaissance and AAFE for supporting our small businesses here in lower Manhattan. As we relish in this exciting moment for The Pickle Guys, I wish them all the best in the years to come!"
"New Yorkers relish the sense of community created by our small businesses, and whether times are sweet or sour, it's good news that local small businesses can get support," said State Senator Daniel Squadron. "I'm proud to have partnered with Renaissance and AAFE on improving support for small businesses, and thank them for working with the Pickle Guys to keep a local business in the community."