‹ Back to News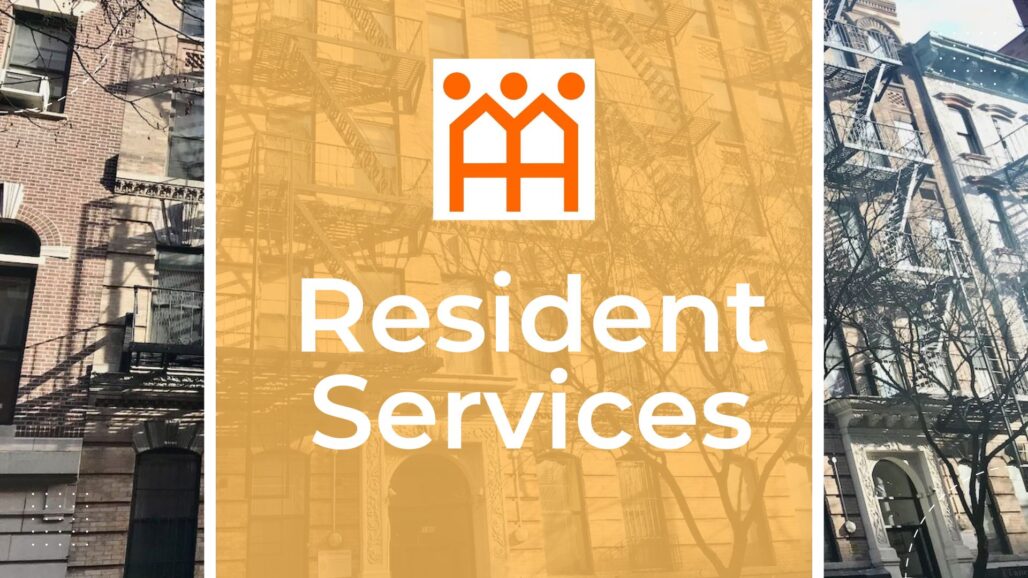 FOLLOW US
AAFE has been preserving and building affordable housing for decades and also providing community services to help ensure that low-income tenants have access to government social programs and economic empowerment. While we have always provided assistance to the tenants living in AAFE's affordable rental buildings across New York City, now we're going a step further: expanding our Resident Services Program, offering comprehensive support to families and seniors to bolster their well-being.
AAFE's enhanced Resident Services Program was launched during the pandemic, when so many of our tenants experienced economic hardship, social isolation and the devastating impacts of hate crimes against the AAPI community.  The program is a collaboration between our Property Management Division and Community Services Department. Working together, they identify early on when tenants are struggling, conduct needs assessments and offer services to stabilize the households.
These multilingual services include: rental assistance, financial education, access to workforce training and employment services, access to affordable healthcare and mental health programs, assistance with Medicaid billing issues, food support (SNAP), enrollment in AAFE's food pantries, senior engagement activities and self defense classes.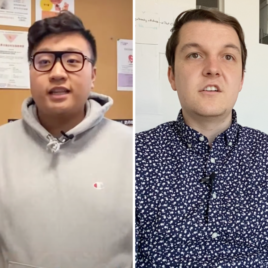 Recently, two AAFE staff members helping to spearhead our Resident Services Program, Ling Xiao Ren (Manager of Resident Services) and Tanner Wieland (Housing Retention Specialist), talked about some of the cases they have been handling.
One of the families receiving assistance from AAFE formerly lived in the Chinatown apartment building where Christina Yuna Lee was brutally murdered in February of this year. A father, his 11-year-old daughter and mother (who is close to 90) were understandably so traumatized by the terrible events that transpired in the building that they moved out, temporarily staying in a nearby hotel.
We were able to relocate the family to one of our buildings in the neighborhood, where they'll be able to live permanently, and AAFE helped ensure that their rental subsidy was transferred to the new apartment.  AAFE staff members connected the household with SNAP food benefits and are continuing to work with them to identify other resources they need, including possible mental health support.
In one recent conversation, the father (speaking in Cantonese) told Ling that he has lived in Chinatown for 25 years. "When we moved out of the apartment," he explained, "we were scared and did not know where to go next. My mother and I had applied for affordable housing and senior housing and have been on the waiting lists for more than a decade. It was very important to stay in Chinatown because every part of our family's lives are in Chinatown. When I moved out, all I knew was that I could not find an affordable place for us on my own."
He added, "I was really surprised there was assistance available to help us gain access to an affordable apartment. Now I hope that my daughter can thrive and excel in ways that I couldn't, and that my family stays safe and healthy."
In another case, we are helping a Chinatown resident (not currently an AAFE tenant) in her 80s who has been living with a roommate in a single room occupancy (SRO) building. The roommate had been in constant conflict with the woman, made living conditions difficult and locked her out of the apartment on more than one occasion.
Our social work intern and a member of AAFE's housing counseling team are working on identifying a new apartment for the client in an AAFE building.  They have helped her apply for a rental assistance supplement, explaining her specific living circumstances in documents filed with the city. They also reached out to the woman's daughter, who was able to help financially to make the move possible.
Finally, there's the case of a Lower East Side resident, a military veteran, who has lived in an AAFE building for the past several years and has struggled to pay his rent.  Formerly homeless, he underwent surgery for a heart condition a couple of months ago.
Since that time, we have been helping to connect him with a range of services to relieve the financial pressures he's facing. Our staff enrolled him in the Meals on Wheels program, signed him up for our Lower East Side food pantry and connected him with housing stability counseling. After the resident fell victim to a medical billing scam, we helped him sign up for a new Medicaid plan. We also provided assistance in identifying a home attendant, who is now visiting his apartment daily.
The Resident Services Program is still new and will continue to evolve during the next year. During the summer months, AAFE's Property Management and Community Services staffs are teaming up to conduct additional resident outreach and a needs assessment to determine what additional resources and community partnerships would strengthen the program and be most beneficial to residents. The needs assessment will also help shape program offerings at our relaunched community center on Norfolk Street, where gardening for residents, free wellness classes and new activity-specific clubs (like Mahjong and Dominos clubs) are already in the works!