‹ Back to News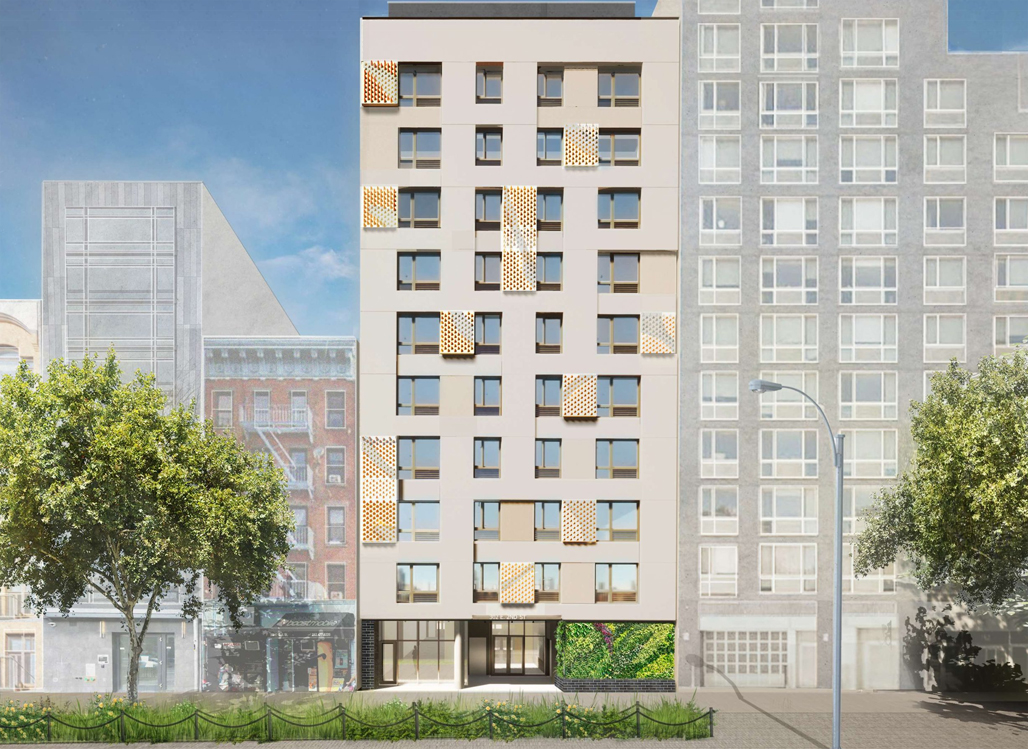 FOLLOW US
A housing lottery kicked off this week (10/18/21) for East Village Homes, a 100% affordable project at 302 East 2nd St. in Manhattan, providing essential new rental housing in the heart of New York City.
There are a total of 44 rental units at East Village Homes for very low, low and moderate income households. Thirty-six units are available through the housing lottery to households at 50%, 80% and 140% of Area Median Income (AMI). The remaining eight apartments are reserved for formerly homeless individuals and families at 20% and 30% of AMI, utilizing Section 8 Project Based vouchers (these units will be filled in a separate process from the affordable housing lottery).
The 14-story building located near East Houston Street and Avenue D was made possible through the City of New York's Neighborhood Construction Program. A nonprofit organization, Asian Americans for Equality (AAFE), is undertaking the project in partnership with the Department of Housing Preservation and Development (HPD), City Council Member Carlina Rivera, Enterprise Community Partners and Low Income Investment Fund (LIIF).
"As New York struggles to emerge from the pandemic, we know there is a critical need for affordable housing in Lower Manhattan, where prices continue to escalate," said Thomas Yu and Jennifer Sun, co-executive directors of Asian Americans for Equality. "Building new affordable projects is never easy, but this work has never been more important. We thank all of our partners for helping to make East Village Homes a reality and urge members of the community to take advantage of this opportunity."
"Housing is a human right and key determinant of public health. That's why funding and expanding access to affordable housing for New Yorkers has always – and especially now – been one of my top priorities," said Council Member Carlina Rivera. "I'm so proud to have worked with AAFE and HPD on the construction of East Village Homes in my district, and also thank my colleague (District 1 Council Member) Margaret Chin for her contributions to this effort. Now that these 44 homes are completed, I encourage my neighbors to visit HousingConnect and file an application today."
"LIIF is thrilled to see the opening of access to affordable housing in the high-priced East Village with the imminent completion of AAFE's East Village Homes project," said Kirsten Shaw, Vice President of LIIF's Northeast and Mid-Atlantic Regions.  "AAFE has a long track record of responding to a broad range of housing needs and development opportunities in New York.  With the City's contribution of a scarce infill lot, AAFE is preserving access in a centrally-located neighborhood out of reach for many New Yorkers."
"Enterprise is thrilled that East Village Homes will soon be ready to welcome residents. In addition, we're honored to see this project come to fruition after providing funding through both LIHTC (Low-Income Housing Tax Credit) equity capital and pre-development and construction financing from Enterprise Community Loan Fund," said Baaba Halm, vice president and New York market leader at Enterprise Community Partners. "This important project adds essential affordable housing supply to an increasingly expensive area and is a model of exactly the kind of development that's needed to prevent the displacement of longtime community residents. Supported by committed government and nonprofit partners, including AAFE, East Village Homes illustrates the importance of collaboration across sectors for bringing crucial affordable housing developments like these to life,"
Preference for 50% of the apartments at East Village Homes will go to residents of Community Board 3. More information about eligibility and income requirements available on HPD's Housing Connect website. To request an application by mail, please send a self addressed envelope to: East Village Homes, 260 Powers St., Brooklyn, NY, 11211. The application deadline is December 20, 2021.
The property will have an on-site superintendent. There's a shared terrace on the 11th floor and a ground floor community facility space. Leroy Street Studio designed the building, which includes sustainable elements and meets Enterprise Green Communities Criteria.
The Neighborhood Construction Program creates new affordable housing by providing funding for city-owned infill parcels throughout New York City. AAFE, a nonprofit organization with deep roots in Chinatown and the Lower East Side, was selected by HPD in 2017 to develop 302 East 2nd St. The project is made possible through the financial support of City Council Member Carlina Rivera, City Council Member Margaret Chin and Manhattan Borough President Gale Brewer. Financial partners include NYC HPD, NYC Housing Development Corporation, Enterprise Community Partners and Low Income Investment Fund.
AAFE is a 47-year-old community development organization which advances racial, social and economic justice for Asian Americans and other systematically disadvantaged communities. In the past three decades, AAFE has preserved and built more than 1,000 units of affordable housing in Lower Manhattan and Queens.