‹ Back to News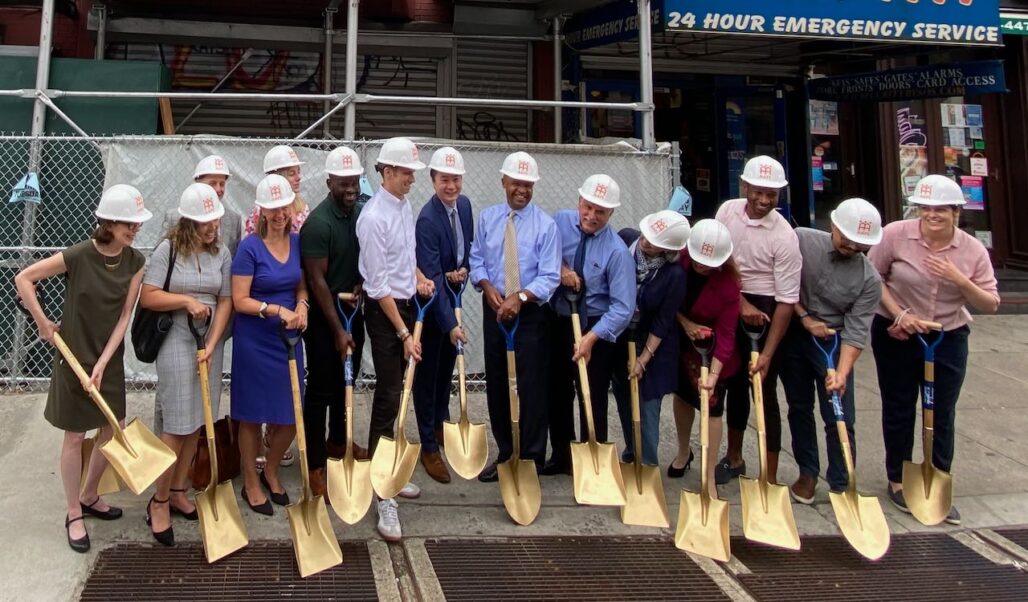 FOLLOW US
The New York City Department of Housing Preservation and Development (HPD), New York City Council Member Erik Bottcher and Asian Americans for Equality (AAFE) joined with community leaders and residents to celebrate the groundbreaking of an affordable homeownership project that will transform a blighted corner of the Chelsea neighborhood, reactivating a site that has been underutilized for decades. The project at 201-207 7th Avenue is financed through HPD's Affordable Neighborhood Cooperative Program (ANCP), which selects qualified developers to rehabilitate or redevelop distressed city-owned multifamily buildings in order to create affordable co-ops for low and moderate-income households.
The four distressed buildings currently on the site, which include 14 rental apartments, will be demolished and replaced with one new nine-story building with 26 co-op apartments and ground floor retail. The five existing residents have been temporarily relocated, are attending co-op homeownership training, and when the project is complete, they will purchase their brand new homes for $2,500 (or $250 if they income qualify). The remaining 21 units will be marketed through the City's Housing Connect lottery with sales prices affordable to households earning 130% of AMI. The project will not only create rare affordable homeownership opportunities in one of New York City's most expensive neighborhoods but will also remove a longtime eyesore along 7th Avenue, replacing it with a new development thoughtfully designed to blend into the neighborhood.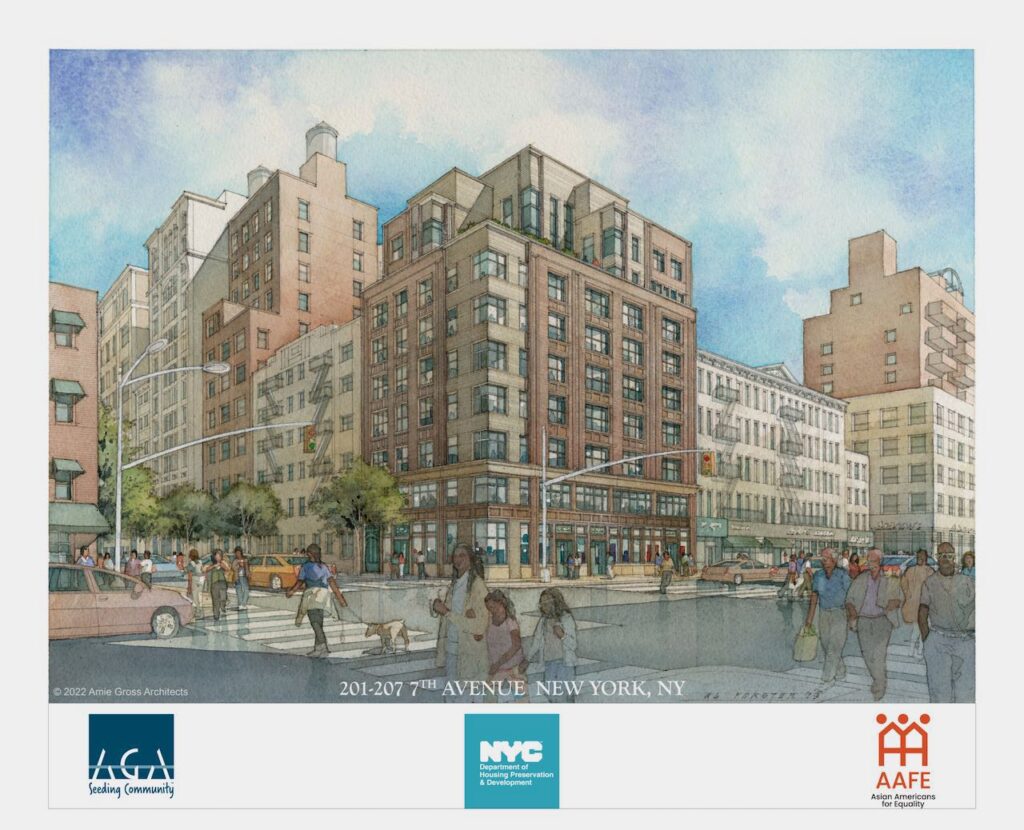 "I am thrilled that after decades, these derelict and mostly vacant buildings on the corner of 22nd and Seventh Avenue will finally be turned into a new, affordable housing building, and will allow for the original tenants to return to their original homes," said City Council Member Erik Bottcher. "This project is a true win for the community and New York as a whole, and provides desperately needed housing, and a reactivation of a longtime overlooked corner in Chelsea. Thank you very much for HPD, AAFE, CB4, and local community leaders for everything you all have done on this project."
"Manhattan rents just hit a record average of $5,000 per month. Now more than ever, we need affordable housing, so the new development at 201-207 7th Avenue is welcome news," said State Senator Brad Hoylman. "I'm grateful to HPD, Council Member Erik Bottcher, Asian Americans for Equality and Community Board 4 (MCB4) for making this project a reality."
"After decades of advocacy and negotiations, Manhattan Community Board 4 is excited to finally celebrate the groundbreaking of these buildings. MCB4 has been involved in almost every aspect of the creation of this affordable housing development. The Board is grateful for the combined efforts of HPD and AAFE in bringing this project to this important milestone, said Jeffrey LeFrancois, Chair, Manhattan Community Board 4.
"We are really excited to be part of this collaboration, bringing a much-needed affordable homeownership project into the heart of Chelsea", said Salvatore D'Avola, Executive Director, Restoring Communities HDFC. "These long-derelict buildings will be transformed into a new 26 unit affordable cooperative building that will allow the existing low-income residents and new first-time purchasers the opportunity to become homeowners in this great city."
Keyla Espinal, a longtime resident leader, who grew up in the buildings said, "We are relieved and happy that this day is finally here! Our family is excited to come home as homeowners in our own community. It's a victory not only for the residents of the buildings, but also the whole neighborhood, which will see this corner of Chelsea transformed into something we can all take pride in for many years to come."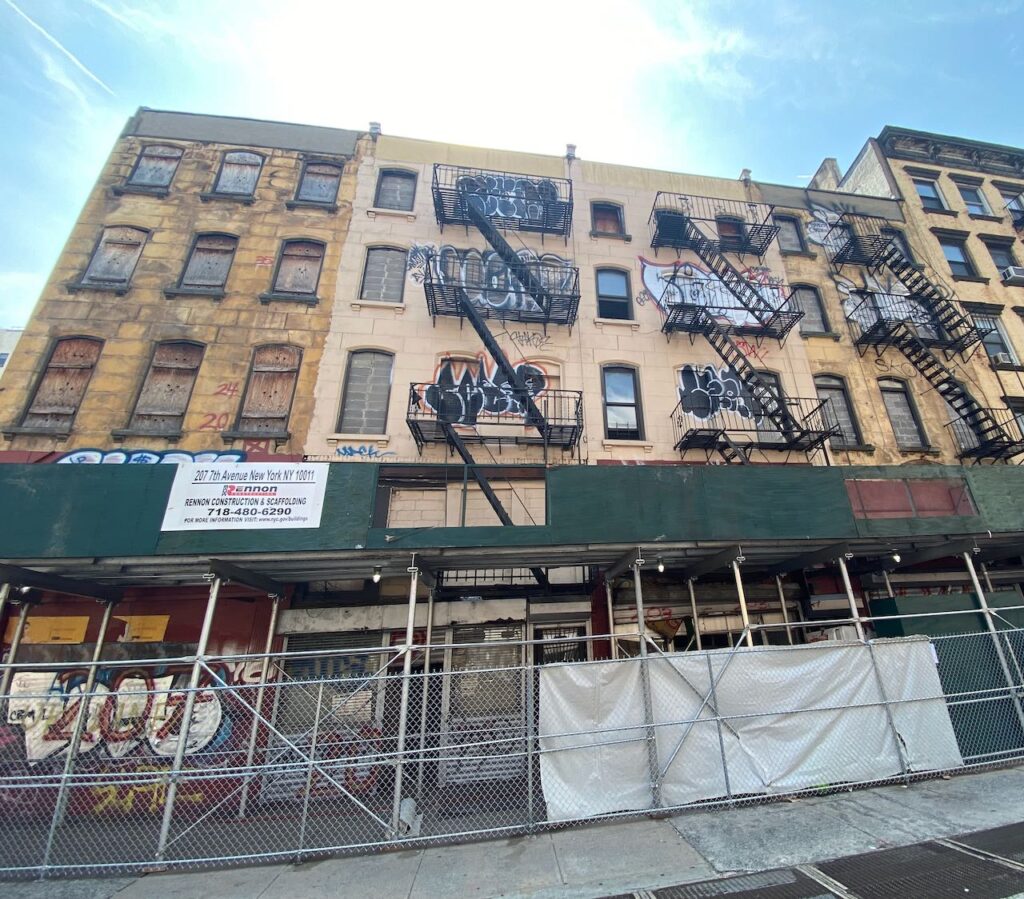 City Council representatives, Community Board 4 and other community leaders advocated for the renovation of the four buildings on the site for many years. Through the Affordable Neighborhood Cooperative Program, HPD designated AAFE to redevelop the distressed properties to create affordable homeownership opportunities for new and existing residents. The development team worked closely with the community on a new building design.  201-207 7th Avenue was transferred to Restoring Communities HDFC at the closing of the construction loan last month, and when construction is complete, it will be conveyed to a newly formed Housing Development Fund Corporation (HDFC), owned and managed by the residents.
Building Design
Building materials are inspired by the various architectural styles in Chelsea, utilizing elements typical of traditional mercantile buildings and residential buildings with detailed facades, including a strong base, columns and the blending of stone and brick. Amie Gross Architects, as the project architect, will be working with contractors to preserve decorative elements from the buildings, which date to about 1920. Every effort will be made to remove intact the cast iron Italianate entrance now located on West 22nd Street and to install it as part of the new building.
The project will include a mix of studio, one-, two- and three-bedroom units, as well as a 3,500 square foot ground floor retail space which will be leased to commercial tenants selected with input from the residents. There will be a shared terrace and recreational space on the eighth floor with stunning views looking north and south along 7th Avenue, a shared courtyard, a laundry room, bike room and elevator. The building will also include numerous sustainable features such as energy efficient mechanical systems, natural daylight in corridors and energy saving thermal insulation.
Amie Gross AIA, President of Amie Gross Architects, noted, "The building design is inspired by the community – by both its residents and architecture. This project embodies the commitment of Amie Gross Architects to sustainable and affordable structures that are made to last.  Together with the input of Manhattan CB4 and AAFE, AGA designed this mixed-use building to honor its context, while contributing to a more inclusive and equitable urban environment."
Demolition of the existing buildings is expected to begin in early- to mid-August and extend for approximately three months. Construction of the new building will likely start in early 2023 with completion in approximately 24 months.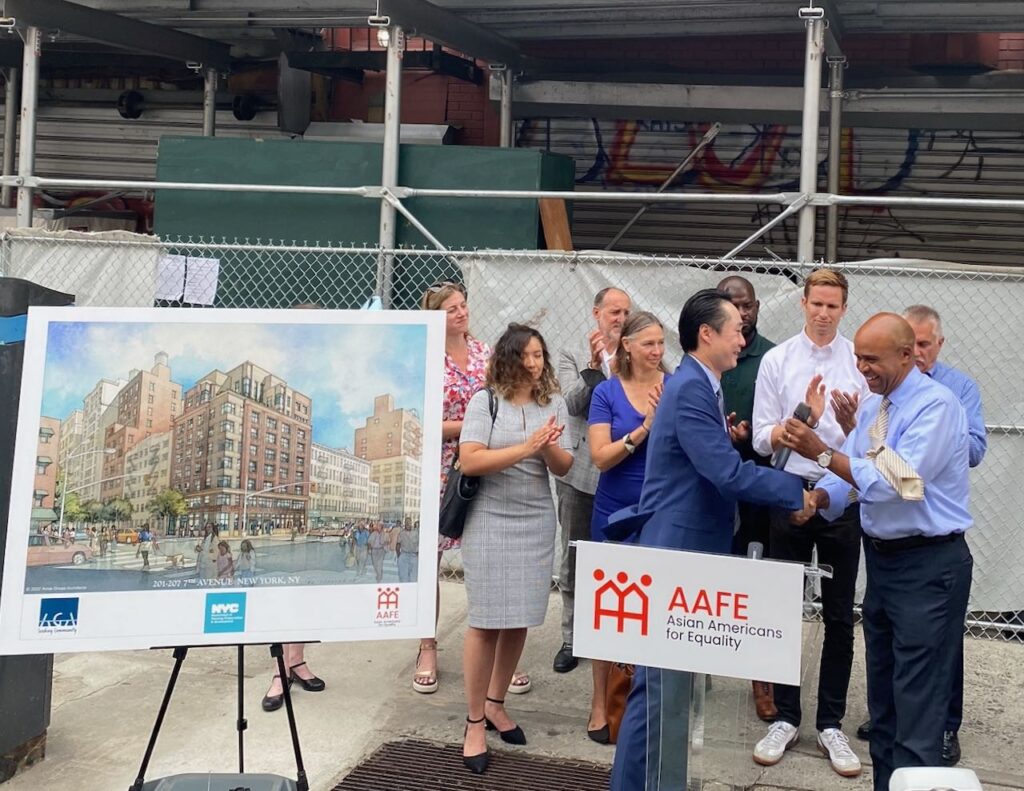 Financing for this project includes a construction loan from Enterprise Community Partners, in collaboration with Low Income Investment Fund (LIIF) and subsidies through NYC HPD's Affordable Neighborhood Cooperative Program. Additional funding will come from a combination of sales proceeds from the vacant units, funding from the Manhattan Borough President, and sponsor equity. The total development cost is $25.7 million.
"As skyrocketing housing costs continue to push homeownership away from too many families, it's profoundly meaningful to transform a blighted corner into affordable homeownership opportunities," said Elise Balboni, president of Enterprise Community Loan Fund. "Enterprise is proud to partner alongside HPD, AAFE, New York City Council Member Erik Bottcher and others to celebrate the creation of 26 places of pride, power and belonging."
"The Low Income Investment Fund (LIIF) is proud to support AAFE's work to address New York City's broad range of housing needs. This project will have deep impact for the returning residents and make affordable homeownership a reality in Chelsea," said Kirsten Shaw, Vice President, Northeast and Mid-Atlantic Regions. "This site also demonstrates that HPD's Affordable Neighborhood Cooperative Program continues to be an impactful source of capital to revitalize properties across the city."
Asian Americans for Equality has a successful track record in the Affordable Neighborhood Cooperative Program. In 2017, AAFE completed New York City's first  project through the program at 244 Elizabeth St. in Manhattan, creating 19 affordable co-op apartments. Currently, the organization is transforming three more buildings in the East Village, creating 44 additional homeownership opportunities for both existing and future residents.
###
The New York City Department of Housing Preservation and Development (HPD) is the nation's largest municipal housing preservation and development agency. Its mission is to promote quality housing and diverse, thriving neighborhoods for New Yorkers through loan and development programs for new affordable housing, preservation of the affordability of the existing housing stock, enforcement of housing quality standards, and educational programs for tenants and building owners. For full details visit nyc.gov/hpd and for regular updates on HPD news and services, connect with us on Facebook, Twitter, and Instagram @NYCHousing.
Asian Americans for Equality (AAFE) is dedicated to advancing racial, social and economic justice for Asian Americans and other systematically disadvantaged communities. In the past 30 years, AAFE has built and preserved more than 1,200 units of affordable housing across New York City. AAFE is committed to addressing New York City's housing crisis by creating a spectrum of affordable housing solutions, from low-income rental projects, to homeownership programs and, most recently, transitional housing for families with children. AAFE offers an array of multilingual community programs, including tenant counseling and advocacy, immigration assistance, college access and youth leadership, access to social services and small business financing and education. More information at aafe.org.