‹ Back to News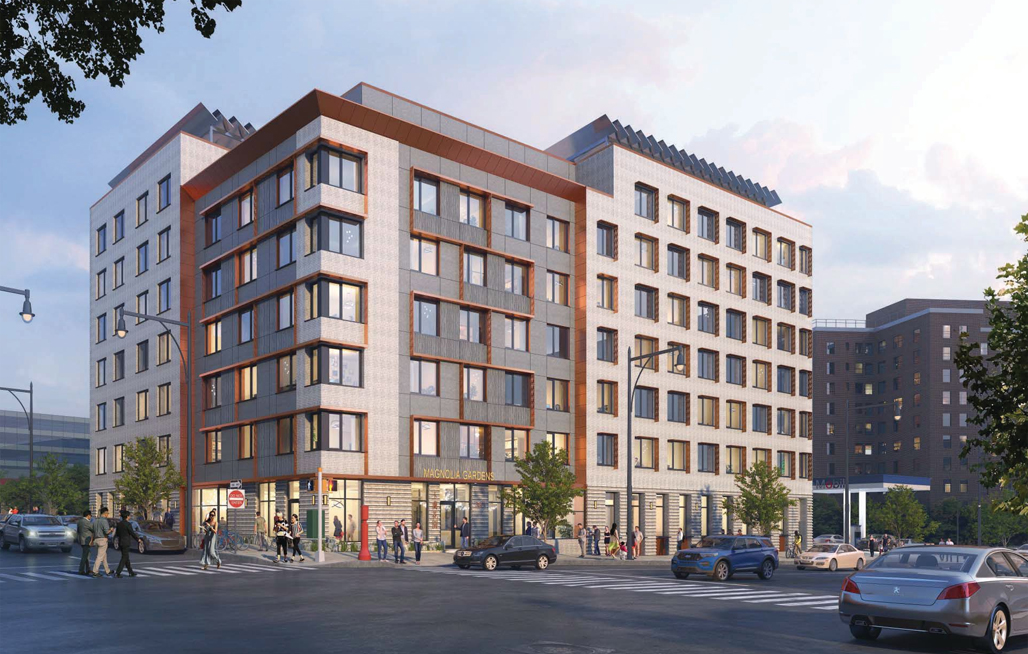 FOLLOW US
WHAT: State-of-the-art transitional apartment building for 90 families with children in Flushing, Queens with comprehensive integrated services to help residents stabilize their lives and make the move to permanent affordable housing.
LOCATION: 39-03 College Point Boulevard (39th Avenue)
PROGRAM/SERVICES: Unstably housed families will be selected primarily from the local community to live in apartments for approximately one year, receiving daily case management, individual and group counseling, permanent housing placement assistance, referrals for medical care, life skills workshops, recreational activities for children and after school programs, workforce training and placement and childcare. All programs are tailored to assist at-risk families in securing long-term housing, employment and contributing positively to their community.
POPULATION SERVED: Families in the Flushing community will be prioritized, including those living in illegal basement apartments, hotels and other unstable housing arrangements, some as a result of displacement amidst COVID-19. The facility will be the first of its kind in New York City, offering Asian language services.
COMMUNITY BENEFITS: This innovative facility will help bolster neighborhood health, safety and economic development by reducing the homeless and unstably housed population in short and long term, providing good jobs for community residents and activating a site that has been vacant for several years.
PARTNERS: Urban Resource Institute (URI) and Asian Americans for Equality (AAFE), in coordination with NYC Department of Homeless Services. URI is the service provider, while AAFE will assist with community outreach and Asian language services.
DEVELOPMENT TIMELINE: The project is expected to break ground shortly after closing  with construction continuing for approximately 20 months.
DESIGN TEAM: Urban Architectural Initiatives (UAI).
ABOUT THE PROJECT: The Flushing transitional housing center will address a clear need in the community for compassionate and comprehensive services to stabilize families experiencing short-term hardships. It will be a resource for the entire community, including Asian American families with children, who have traditionally avoided the city's shelter system. This project is not a day shelter and only provides services for residents living within the apartments. Because no shelter facilities in the community at present offer Asian language or culturally appropriate services, community members have opted for illegal basement apartments, unsafe hotels, overcrowded apartments with extended family members and have in some cases ended up on the street with no shelter at all. This is an unfortunate reality for members of the Flushing community, particularly families, that transitional housing helps to solve.
The selected families will live in a brand new building, contextual to the surrounding neighborhood. The apartments will have full kitchens and bathrooms and floor plans just like other apartment buildings in the neighborhood. The only difference between this project and a typical residential building is the duration of tenancy and wealth of supportive services offered on-site, which many families desperately need, particularly now.
Families with children housing is completely different from the city's day shelters. In this facility, families will be residents, on average, for one year. Adults must be employed or participate in daily job training to be housed, children are enrolled in local schools and services are layered on to ensure all families are eventually prepared for independent living in traditional affordable housing long term.
Given New York City's affordable housing crisis and application requirements, it can be difficult to find permanent housing for unstably housed families. Once families are in transitional housing, they can more easily secure Section 8 vouchers and qualify for housing units specifically reserved for formerly homeless community members. The Families with children model has a proven track record of success in transforming lives. Families will be placed in the building following referrals from the NYC Department of Homeless Services, helping to ensure those who are in most need receive the support they deserve.
THE NEED: On average, there have been 90 Asian families in city facilities during the pandemic. We  expect that number to increase when the eviction moratorium is lifted and emergency rental assistance funds expire.  The number of Asian families in DHS transitional housing could increase to a pre-pandemic average of 118 monthly.  We know, however, that existing transitional housing is ill-suited for many Asian families, since Asian language services are not offered. Nonprofit groups in Flushing report that they have many families right now who could be referred to our transitional housing facility, if it were open today. We know that many AAPI families in the community are just a paycheck away from losing their homes. Asian American families in distress are often hidden from public view. The annual census of New York City's homeless population, for example, does not include Asian language outreach. The reality is that many members of the Flushing community are at risk:
–Even before the pandemic, 41% of households in Community District 7 (CD7) were severely rent burdened, up 10% in the past decade.
–25% of CD7 families were living in overcrowded homes.
–Nearly 22,000 Asian individuals in CD7 were living in households with annual incomes below the federal poverty line.
–Following Hurricane Ida, 10 of 11 New York City basement-flooding deaths were Asian American.
–Data from the NYC Department of Education shows that 14% of the doubled-up population in the city's public schools is Asian.
–Flushing has received the second highest number of 311 complaints for illegal conversions – basements, single family homes operated as hotels, and rooms subdivided for bed rentals – with over 8,000 calls since 2010 out of 63 zip codes in the city.
ABOUT AAFE: For nearly a half century, Asian Americans for Equality (AAFE) has been advancing racial, social and economic justice for Asian Americans and other systematically disadvantaged communities. As a 501 (c) (3) non-profit organization, AAFE has created more than 1,000 affordable apartments across New York City and it provides an array of community services, including housing counseling, access to government entitlement programs and health care and college access programs for immigrant youth. AAFE bolsters immigrant small businesses through low-interest loans and grant programs and provides financial education programs for first time homebuyers throughout New York City.  AAFE has served the Flushing community for more than 20 years and co-developed One Flushing, the largest 100% affordable housing complex to open in Flushing in decades.