‹ Back to News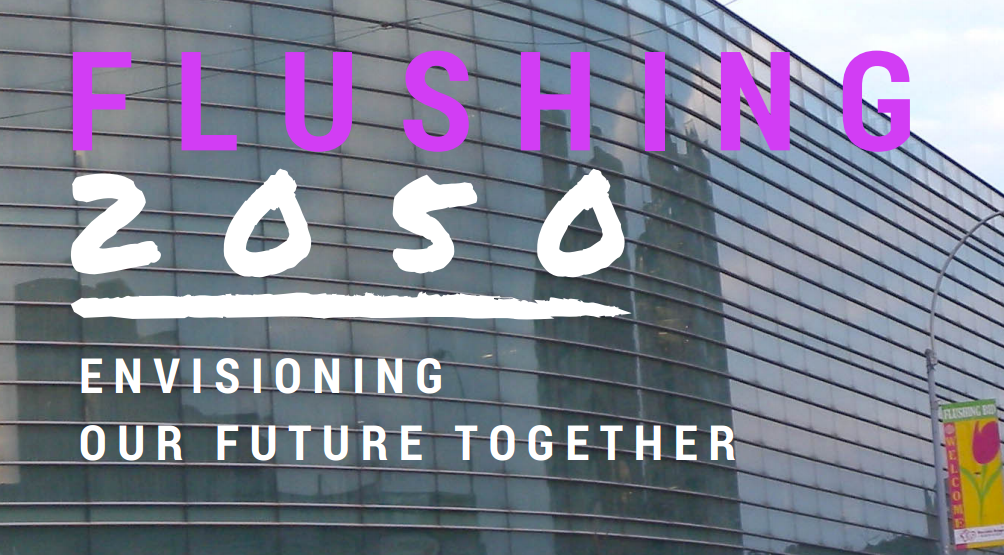 FOLLOW US
On April 28, 2017 Asian Americans for Equality hosted a conference in Flushing, Queens and released a report, Flushing 2050: Envisioning Our Future Together.
One year ago, AAFE brought a broad cross-section of community leaders together for the launch of the Flushing 2050 Community Building Initiative.  The project is being led by Partners in Progress, a local collaborative created with funding from Citi Foundation and Low-income Investment Fund. The goal is to develop a future-oriented, broad-based and community-led visioning effort for Flushing's long-term progress and quality of life.
"Flushing is an incredible culturally diverse and economically charged neighborhood whose vibrancy draws people from all over to live, work, and visit," said AAFE Executive Director Christopher Kui. "But now more than ever, it is clear that Flushing is bursting at the seams and is in desperate need of critical forward thinking. As we stand at this crossroad we must all make a choice: do nothing and risk losing the neighborhood we love, or do what is right and what is needed and invest our time, energy, and resources to ensure that Flushing shines on to 2050 and beyond."
The new report summarizes community goals and priorities expressed in public workshops and in recent neighborhood studies. As the report notes, it is also "a renewed call for the city to invest in Flushing's physical and social infrastructure, and to re-engage with community leaders and stakeholders in planning for balanced, inclusive growth."
Visioning participants helped define principles of unity to express the values and desired outcomes of a community-driven approach to economic development that is equitable and inclusive, particularly of immigrant and low-income residents. These principles include:
Real Community Participation in Planning Process,
Infrastructure Investment for a Growing Community,
Residential Neighborhoods that are Affordable, Safe, and Green,
Economic Opportunities for Local Residents & Small Businesses
Strong Anti-Harassment and Anti-Displacement Policies
Diversity: A Place for Everyone
Environmental Restoration and Preservation
Affordable and Culturally Relevant Health Care
During the recent conference, elected officials, community stakeholders, community groups, the community board and advocates all spoke about Flushing's future. There were also roundtable discussions on important topics and a neighborhood walking tour.
Partners in Progress announced a call for Steering Committee members to guide the priorities of the initiative, and urged the broader community to participate in public workshops and activities.
In the first year, the initiative kicked off with the Flushing 2050 Community Forum on March 5, 2016 followed by community workshops throughout the spring, facilitated by the Municipal Arts Society, Greater Flushing Chamber of Commerce, AAFE, and NYC Small Business Services. In addition, over the course of the year, Flushing 2050 partners led efforts, including a commercial district needs assessment, site studies, consumer market surveys, cultural mapping tours, a creative economy session featuring local artists, entrepreneurs, and young professionals, and the initial phase of the Flushing Employment Network.
Flushing 2050 participants: Asian Americans for Equality, Bowne House Historical Society, Charles B. Wang Health Center, Equality Fund, Flushing Business Improvement District, Flushing Chinese Business Association, Flushing Quaker Meeting House, Flushing Willets Point Corona LDC, Gerson Properties, Greater Flushing Chamber of Commerce, Holly Civic Association, Guardians of Flushing Bay, Historic Saint George's Episcopal Church, Immigrant Advancement Matters, Korean American Family Service Center, Korean Community Services of Metropolitan New York, LaGuardia Community College, LaGuardia Small Business Development Center, NAACP Northeast Queens Branch, New York Presbyterian Hospital-Queens, Queensborough Community College, Queens Community House, Queens Public Library-Flushing, Queensboro Hill Civic Association, Queens Botanical Garden.
See below for the full report.