‹ Back to News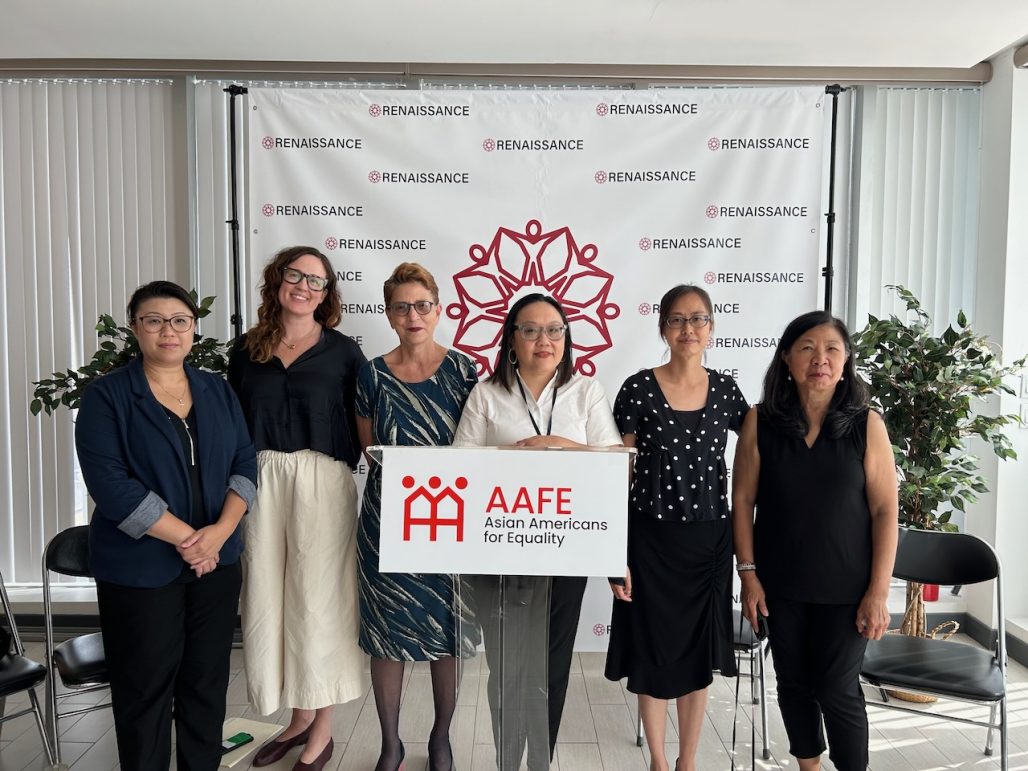 FOLLOW US
AAFE LAUNCHES ONLINE FUNDRAISER TO PAY FOR THE FUNERALS OF FOUR FIRE VICTIMS 
In the aftermath of a devastating fire at 80 Madison St. in Chinatown June 20, Asian Americans for Equality (AAFE) and Renaissance Economic Development Corporation (an AAFE affiliate)  updated the community on efforts to support displaced families and to assist delivery workers in transitioning to safe and compliant e-bikes. 
Fire investigators said a lithium-ion battery inside a e-bike store ignited the fire, which killed four residents living in apartments above and sent two others to the hospital. All of the residents were displaced. AAFE is collaborating with other nonprofit groups, elected officials and city agencies to find suitable temporary housing for the tenants of 80 Madison St. 
At a news conference held July 10 in Chinatown, AAFE and Renaissance were joined by partners at The Equitable Commute Project (ECP) and Spring Bank to help get the word out about a e-bike trade-in program which offers $1,500 rebates for UL-2849 bicycles. These bikes meet the highest safety certification available, a standard set by the Underwriters Laboratory. Under a new law, all new e-bikes sold in New York City must comply with the UL-2849 standard by September 16, 2023. 
Lithium-ion batteries are found in e-bikes but also many other devices, including laptop computers and phones. They have caused more than 100 fires in New York City so far this year and resulted in 13 deaths. They are now one of the leading causes of fires in the city. E-bike batteries are often stored improperly, charged on overloaded extension boards, and improperly refurbished. They have been described as "ticking time bombs," since so many e-bike shops are located on the ground floor of century-old tenements in Chinatown and other neighborhoods. Non-compliant e-bike batteries put vulnerable residents at risk of injury and death. Since small Chinatown property owners are often unable to afford renovation costs following building fires, these catastrophic events can also result in the destabilization and eventual sale of buildings to predatory landlords who degrade the neighborhood's affordable housing stock. 
Through the trade-in program, eligible delivery workers can purchase UL 2849-certified Tern Quick Haul bicycles at a 40% discount (the normal retail price is $3,775 plus tax). Low-cost 12-month loans are available from Spring Bank, regardless of credit history, for those delivery workers who need help financing new bikes. Funds for the trade-in program will need to be replenished to meet high demand. Advocates are asking our government officials to urgently provide adequate funding. It is important that delivery workers apply now so that they can be added to the waiting list. A Chinese language flyer is available here. 
"We must do whatever it takes to prevent another heartbreaking tragedy, like the deadly fire at 80 Madison St., from happening again," said Jessie Lee, managing director of Renaissance, AAFE's small business affiliate. "This program not only assists delivery workers in meeting the city's new certification requirements, relieving an economic burden, but it will help keep our broader community safe. The faster we replace dangerous e-bike batteries, the more peace-of-mind our community members will have each night when they go to bed. We urge delivery workers to sign up for this program now. This can be a win-win situation for all." 
"Electric micromobility has become an essential tool for more than 65,000 delivery workers, but high-quality bikes are out of financial reach for many," said Melinda Hanson, co-founder of the Equitable Commute Project. "The ECP is proud to pilot this trade in program that will get hazardous vehicles and batteries off the streets, bring high-quality bikes into financial reach, and support New Yorkers to build a positive credit history." 
Melanie Stern, Spring Bank Community Reinvestment Act Officer and Director of Consumer Lending said, "In light of the recent spate of tragic bike battery fires, I am gratified that – with our GoGreen Cycle Loan – Spring Bank can provide qualifying delivery drivers an affordable, transparent loan that has no minimum credit score and can help make quality bikes with UL Certified batteries accessible. With the Equitable Commute Project and our long-standing partner Renaissance  we further our mission of bringing affordable financing options to New Yorkers where and when they're most needed."
80 Madison St. Fire Relief Fund
The fire at 80 Madison St. killed two women, ages 62 and 85, and two men, ages 71 and 80. To relieve the financial burden on their grieving families, AAFE created a online fundraiser to pay the funeral costs, which are expected to total at least $80,000. To date, about $19,000 has been raised. AAFE has committed to covering all of the funeral expenses. Contributions may be made here or by mail to: AAFE, 108 Norfolk St., New York NY 10002, Re: 80 Madison Fire Fund. 100% of the funds raised will be allocated to pay the families' funeral expenses. 
"We have been working closely with the three families who lost loved ones in the fire," said Emily Rios, managing director of AAFE Community Services. "They are grateful for the outpouring of support from our community. So many people want to know how they can make a difference. While we can't take the pain and anguish away, we can at least ensure that the families don't need to worry about accumulating funeral bills as they focus on burying loved ones." 
Housing Assistance for Displaced Families
AAFE is working with other non-profit organizations to assist displaced families, many of whom have been living in hotel rooms since the fire happened three weeks ago. Our staff is coordinating with Welcome to Chinatown, which established a separate online fundraiser to address the immediate needs of displaced tenants. 
Three days after the fire, on June 23, tenants came to AAFE's offices where, in coordination with University Settlement and City Council member Christopher Marte, needs assessments were conducted to determine the requirements of each household. Since building repairs are expected to be extensive and protracted, many tenants expressed the need for temporary housing. 
Staff members have been working to potentially place some of the tenants in AAFE affordable housing in the vicinity of Chinatown. Because all of AAFE's buildings are permanent affordable housing under existing city programs and governed by regulatory agreements, it is necessary to determine the eligibility of each household. Under normal circumstances, AAFE's vacant rent stabilized units are filled from existing waiting lists established from housing lotteries. Exceptions are made under unusual circumstances, when there is an urgent community need. Approval from the city's Department of Housing Preservation and Development (HPD), as well as support letters from local elected officials will be needed before any placements can be made. 
About AAFE and Renaissance: Asian Americans for Equality is a nearly 50-year-old community development organization which offers an array of community services and affordable housing options throughout New York City. AAFE became a mission-driven housing developer in the 1980s following a deadly fire on Eldridge St. that displaced 125 low-income tenants. Throughout the years, AAFE has repeatedly served as a first responder following building fires in Chinatown, advocating for tenant rights and identifying alternative housing for displaced residents. AAFE founded Renaissance in 1997 to offer low-interest small business loans, training and counseling services. Renaissance also has a long history of responding swiftly during times of crisis, helping to stabilize small businesses and the larger community following fires, floods and economic disasters. 
About The Equitable Commute Project: The Equitable Commute Project works to advance economic access through sustainable micromobility. Founded in 2020, the ECP is a coalition of seven NYC-based organizations, including Barretto Bay Strategies, Brightside, Empire Clean Cities, The HOPE Program,  NYU Stern Center for Sustainable Business, Spring Bank, and Transportation Alternatives.
About Spring Bank: Spring Bank works to create a world where all people have equal access and the opportunity to build prosperous and abundant futures for their families and communities. Founded in 2007 and the first B Corp Bank in New York State—our mission is to pursue a double bottom line, serving the needs of underserved consumers and small businesses in the New York City area, providing transparent and affordable banking products and services.