‹ Back to News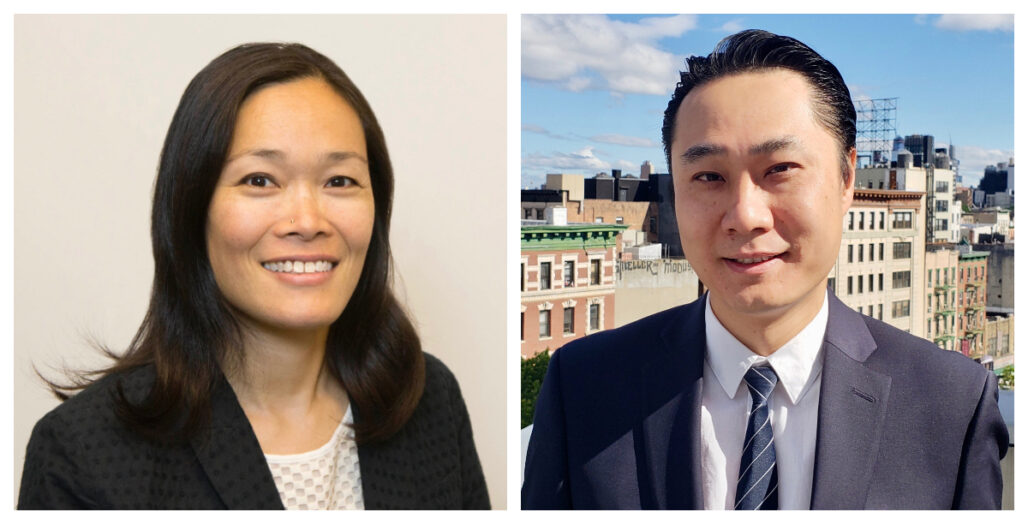 FOLLOW US
June 15, 2018 – Jennifer Sun and Thomas Yu will become Co-Executive Directors of Asian Americans for Equality (AAFE) effective July 2, 2018, Lydia Tom, President of AAFE's Board of Directors, announced today.
Jennifer Sun, who managed the Rebuild Chinatown Initiative at AAFE after 9/11, has worked for over a decade advancing and leading economic development and large-scale infrastructure projects throughout New York City. Notably, Sun served as Policy Advisor to former Deputy Mayor Daniel Doctoroff; was Senior Vice President at the New York City Economic Development Corporation (EDC) from 2008 to 2014; and served as the Executive Director of Sunset Park at EDC, where she managed 6 million square feet of industrial property to support urban manufacturing.  Ms. Sun also led implementation of the Community Parks Initiative for the NYC Department of Parks & Recreation, the agency's major equity initiative, investing over $180 million to rebuild parks, increase programming and build partnerships in underserved neighborhoods across the city.  During the past two years, Ms. Sun started a consulting practice assisting nonprofits and social enterprises with strategic planning and capacity building in Kansas City, Missouri. Ms. Sun holds dual Bachelor's degrees in Economics and East Asian Studies from University of California, Los Angeles and a Master's degree in Urban Planning from Columbia University.
Thomas Yu has been involved with AAFE for over 20 years, most recently in the capacity of Strategic Development Officer.  Mr. Yu started as a Planning intern at AAFE in 1997, returning full-time in 2001. During his tenure, Yu has been directly responsible for overseeing the development of over 400 units of low- to very-low income family housing in Chinatown, Lower East Side and Queens, and bringing $65 million of public and private housing and infrastructure reinvestment back into these communities. He is in charge of leading AAFE's current development pipeline of another 500 units of housing and 80,000 sf of community/commercial projects, with total development costs of nearly $450 million. Yu has been recognized by Time Out NY as one of the up and coming new leaders in community activism, and received Affordable Housing Finance's Young Leaders Award in 2008. This year, he was honored by Manhattan Borough President Gale Brewer for outstanding contributions to the Asian American Pacific Islander community. Yu received a Bachelor's Degree in Government from Harvard University and a Masters in Urban Planning from the NYU Wagner School of Public Service.
"Both Jennifer and Thomas are talented and proven executives who have devoted their careers and lives to building the communities AAFE serves," said Lydia Tom, president of the board at Asian Americans for Equality. "We believe these two leaders bring the expertise and vision to take AAFE to the next level — continuing to build our organization, to partner with other organizations and to improve the ability of our team to execute against a robust strategic plan.  Jennifer and Thomas both bring a unique set of experiences and knowledge of issues facing AAFE, and together, they will foster collaboration across our entire organization."
"I am excited to be moving back to New York to join AAFE," said Jennifer Sun. "It is incredibly meaningful to be able to bring my experiences of community engagement in Los Angeles and Manhattan's Chinatown, commitment to community economic development, and experiences of working at AAFE and in city government to advance AAFE's leadership in comprehensive community development. –Together Thomas and I will deepen AAFE's impact in affordable housing, access to capital, social services, and advocacy for Asian American, immigrant, and low-income communities in New York City.  I look forward to fostering collaboration within AAFE and with partners across all sectors, to develop healthy, equitable communities."
"I know I am in a unique position — having matured personally and professionally along with the growth and evolution of AAFE itself — to sustain our work and champion AAFE's adaptation and transformation into its next phase with Jennifer," said Thomas Yu. "Coming from a Chinese-speaking, immigrant family living in poverty in Chinatown and the Lower East Side, I saw how AAFE gave my immediate household the tools to lift ourselves out of our circumstances. I believe that my experience, expertise, track record, leadership ability, and personal connection to the community AAFE serves, will enable me to co-lead AAFE and its dedicated professional staff towards a trajectory of mission-driven, sustained growth and impact."
Sun and Yu succeed Christopher Kui, who retired as Executive Director in December 2017 after leading AAFE for 25 years.  Chris Kui said, "I've worked with both Jennifer and Thomas and they are exceptional talents. I wholeheartedly believe that they are the right choice to bring AAFE to the next level. I am so excited for AAFE's future with these two leaders on board."
Doris Koo, AAFE's first Executive Director from 1984-1992, who served as Interim Executive Director during the recent transition, said, "Jennifer and Thomas represent the best of our community. They are children of immigrants, and have immense appreciation for the hard work and challenges faced by our community and other communities of color. They share a vision for the future of AAFE, and I am confident that they will bring their passion, talent and experience to advance AAFE's mission for decades to come."