‹ Back to News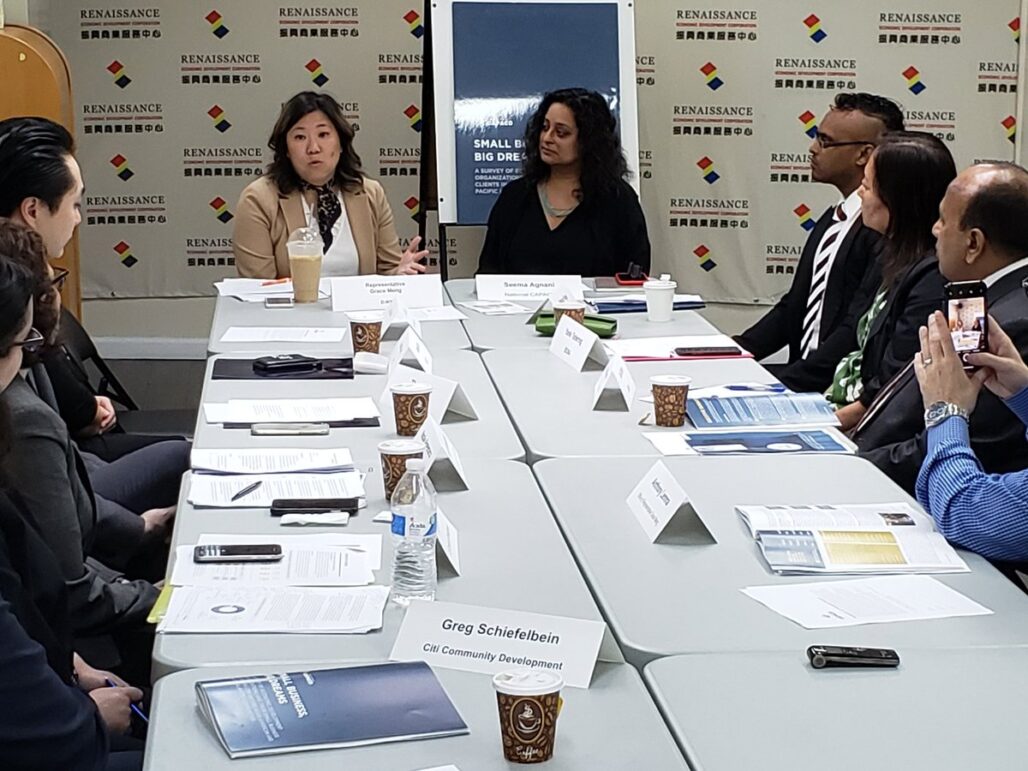 FOLLOW US
U.S. Rep. Grace Meng and other community leaders came to the offices of AAFE's affiliate, Renaissance Economic Development Corporation (REDC), in Flushing, Queens April 26 for an important roundtable discussion on AAPI small businesses. The National Coalition for Asian Pacific American Community Development (National CAPACD) recently released a report, Small Business, Big Dreams. REDC was one of nine community development organizations nationwide featured in the study.  Participants talked about strategies for addressing the needs and issues highlighted in the report.
"Small Business, Big Dreams" found that AAPI entrepreneurs face significant barriers in starting and sustaining small businesses. They often have difficulty accessing funding, for example. The report emphasized the importance of nonprofit organizations which help provide crucial pathways out of poverty for aspiring business owners.
AAFE's Co Executive Director Thomas Yu and REDC Managing Director Jessie Lee took part in the discussion. Lee cited a lack of access to capital and limited English proficiency as two impediments to AAPI entrepreneurship. She called for more investment in the Small Business Administration and Treasury Department's CDFI Fund program.
Congresswoman Meng said, "Small business is a priority for me because I represent a vibrant district built by small businesses. Reports like these are so important for policy makers because we are not the experts, and we look to you for critical data. Today is not just about the unveiling of this report, but a mandate to take recommendations back to Congress for legislative action."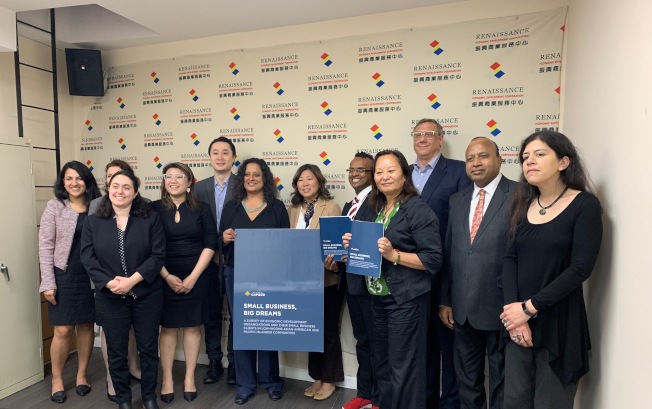 The new report found that data normally cited by the mainstream media and government agencies do not accurately capture the nuances and diversity in the Asian American Pacific Islander (AAPI) community. The available data often lumps together more than 40 ethnic sub-populations, the study found, doing a disservice to our small business owners and, "diminishes the ability of AAPIs to access the resources they need to succeed as entrepreneurs."
While government surveys often paint a rosy picture of Asian American entrepreneurship, National CAPACD found, "AAPIs living in poverty are more concentrated in metropolitan areas than any other racial/ethnic poverty population." As it turns out, the New York City area has the highest rate of AAPI poverty in the nation. At the same time, NYC has the largest number of AAPI small businesses in the country. The study authors advised both government and private sector funders to seize the opportunity  to "address geographic concentrations of poverty" in New York and other major urban centers. According to the report, "community based organizations play a particularly important role in catalyzing place-based economic development and addressing growing poverty rates in low-income AAPI communities."
National CAPCD concluded that, "the current level of investment from government and philanthropic sources is inadequate to meet the business counseling and capital needs of AAPI small business owners in low-income communities." The vast majority of funding goes to groups that lack the language and cultural competency to serve minority entrepreneurs.
The report highlights the innovative strategies employed by REDC and eight of our community development counterparts nationwide to promote immigrant entrepreneurship. We participated in the study by surveying our small business clients and sharing New York-focused small business data.
AAPI entrepreneurs said they relied on their families and own social networks for small business funding, rather than turning to mainstream banks. The study authors observed that REDC and Pacific Asian Consortium in Employment, our counterpart in Los Angeles, have been especially successful at deploying loans over $25,000. National CAPCD concluded that we, "have tremendous potential and already make a big impact in reaching large markets… where AAPIs live."
The report made several recommendations to bolster AAPI entrepreneurship, including allocation of, "robust annual funding to small business programs that increase access to culturally and linguistically competent services, particularly in communities of color that do not have significant wealth." National CAPACD also called on the federal government to collect disaggregated data on AAPI small businesses and to implement meaningful language access plans at federal agencies.
National CAPACD includes more than 100 member groups across the country. REDC's parent organization, Asian Americans for Equality, was a founding member of National CAPACD. To read the full report, click here. Read more about the forum on National CAPACD's website.