‹ Back to News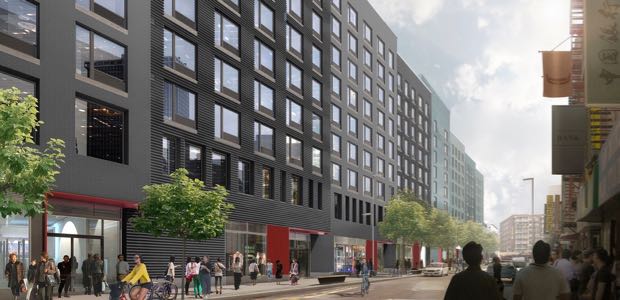 FOLLOW US
An innovative mixed-use residential and commercial project will soon begin to take shape in Flushing, Queens, after the New York City Council gave its unanimous approval earlier this summer. AAFE is partnering with Monadnock Development and HANAC, a Queens-based not-for-profit, to build One Flushing on 41st Avenue, in the downtown area.
The community-oriented development will provide 232 affordable apartments, including critically needed senior housing, spaces for small retailers, a large community center and a range of senior services. In the spring of 2015, AAFE and its development partners won a competitive bid from the City of New York to create One Flushing on a site known as Municipal Parking Lot 3 in Flushing.
"One Flushing is truly a transformative community development partnership for the neighborhood that will not only provide critically-needed senior, low-and-moderate-income housing, but also service amenities and resources for a multi-generational population," said AAFE executive Director Chris Kui.
One Flushing will boast nearly 25,000 square feet of ground floor commercial space, offering affordable storefronts for Queens-based small business entrepreneurs. Through AAFE's affiliate, Renaissance Economic Development Corp., a $2 million fund has been established to provide loan assistance to small businesses interested in renting space. The building will also provide 5,000 square feet of community multi-purpose space for youth, culture activities, arts programming, and public exhibitions.
AAFECare Flushing will provide a range of services to seniors, including adult day care, education programming, exercise opportunities and one-on-one social service and public benefits counseling.
In announcing the project last year, Vicki Been, commissioner of the Department of Housing Preservation and Development, said, "The One Flushingdevelopment plan is an example of a dynamic proposal that encompasses affordable housing, supportive senior housing, and services for the community as a whole." The commissioner added, "I look forward to seeing this development take shape and will be thrilled to welcome future residents to their new homes."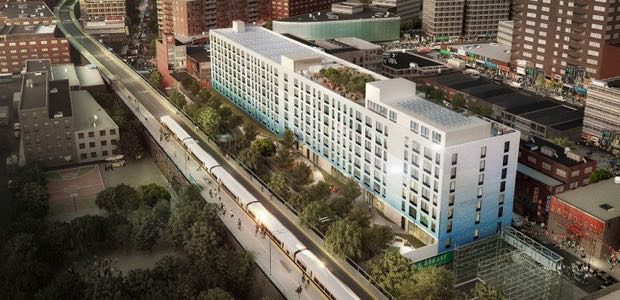 The 10-story building at 133-45 41st Avenue was designed by Berheimer Architecture with SLCE serving as executive architect. The site is bordered by College Point Boulevard, Main Street and the Long Island Rail Road. The project will comply with Enterprise Green Community Standards and will feature energy-efficient and sustainable enhancements, including rooftop photovoltaic solar panels, low-flow water fixtures, Energy Star appliances in all apartments and individual thermostatic climate controls with energy-efficient air conditioning units.
The apartments will also have large reinforced windows to reduce noise from the nearby LIRR station. In the complex, 66 apartments will be reserved for very low-income seniors and 165 will be slated for low-, middle- and moderate-income households. One Flushing's  resident amenities include a gym, community room, laundry rooms, a 6,000-square-foot second-floor terrace and a green roof with rooftop farm. Additionally, the facility will provide up to 156 public parking spaces.
"We're very excited to collaborate with our partners, AAFE, HANAC, and the city to develop Muni Lot 3 in the heart of Queens," said Monadnock Chairman Nick Lembo.  "The Flushing community is so vibrant and we are ready to get to work in creating much-needed affordable housing, supportive services for seniors and business opportunities for local entrepreneurs."
John Kaiteris, Executive Director of Hanac, Inc., said, "This dynamic project embodies all of the qualities to add to the vibrancy of the Downtown Flushing community, while offering safe haven to benefit the physical health, comfort and overall well-being of those who reside, work and visit this new mixed-use building." HANAC is partnering with the  Parker Jewish Institute for Healthcare and Rehabilitation to provide a range of services to keep seniors healthy and socially engaged. They will offer health screenings, referrals and specialized care services. HANAC will also establish a Weatherization Program at One Flushing, helping low-income residents reduce heating and electrical costs.
Following the City Council vote, Council member Peter Koo said, "One Flushing is an exciting opportunity to create a 100 percent affordable housing development with a community center that is open to the public in the heart of Flushing. This is a unique public-private partnership that will deliver deep levels of affordable housing, and senior affordable housing that will go as low as 37% AMI." Koo added, "The project also creates retail space opportunities for local businesses and will include at least 5,000 square feet of space for a community center that will be open to all."
AAFE's Chris Kui said, "We thank Mayor de Blasio, the NY City Council, Deputy Mayor Glen, Commissioner Been, Borough President Melinda Katz, Councilman Koo and all of our local elected officials  for recognizing the dire community needs and economic potential of Flushing, Queens. With their help, One Flushing moves us a step closer to the goals of our City's Five Borough, 10-Year Housing Plan."