‹ Back to News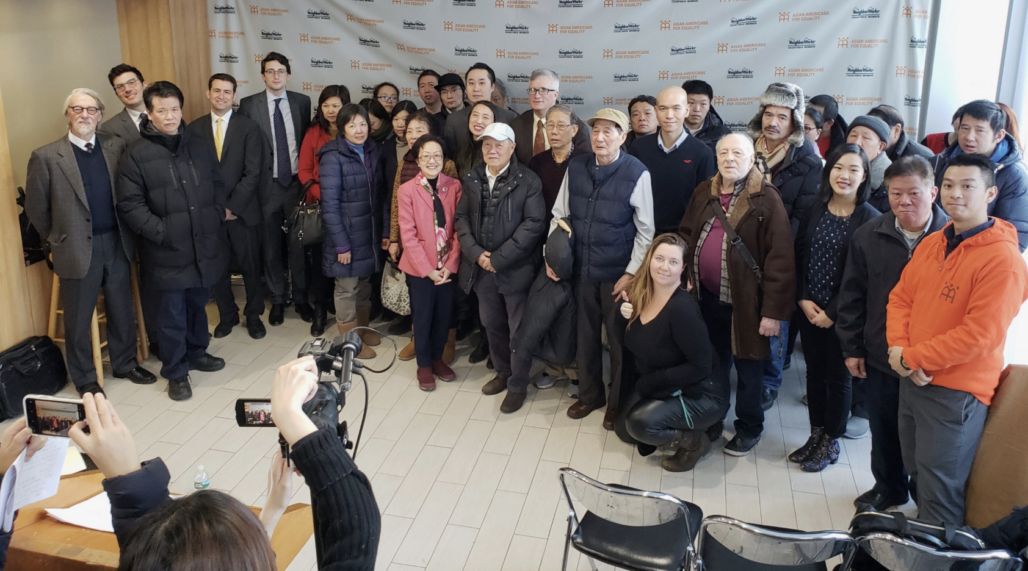 FOLLOW US
Nearly 100 residents who lived in three buildings on Grand Street in Manhattan's Chinatown received settlement checks, eight years after a devastating seven alarm fire destroyed their homes. The tenants were awarded $900,000 in property damages after years of negotiations with the owner of 283-285 Grand St., Fair Only Real Estate, and its insurance carrier. Combined with an earlier settlement with the owners and managers of the third building, 289 Grand St, the tenants have succeeded in recovering more than $1 million for their losses.
Asian Americans for Equality (AAFE) has been advocating on behalf of the residents since the fire erupted April 11, 2010. The New York City law firm, Patterson Belknap, was approached by AAFE soon after the fire and the firm agreed to handle the case pro bono.
The fire, one of the worst New York City blazes in the past decade, caused the death of an elderly resident and left dozens injured. One of the buildings, 289 Grand St., was restored after the tenant association and AAFE took the owner to housing court, with legal support from the New York City Department of Housing Development and Preservation. The other buildings, severely damaged by the fire, were demolished.
As outlined in complaints filed in New York State Supreme Court, the origin and rapid spread of the fire was the product of the building owners' years-long pattern of gross neglect in maintaining the buildings.  Among other things, the complaints alleged that the landlord "knowingly and intentionally" ignored "highly dangerous conditions," including inadequate fire-safety measures, exposed wires, and rotting walls. These were reflected in dozens of housing violations and citations issued by the city. A Fire Department investigation determined that "sparks or heat from an overheated electrical junction box" at 283 Grand St. ignited the fire.
The tenants, most of whom were longtime Chinatown residents, lost nearly all of their personal property in the fire, including precious family photos, mementos, clothing and furnishings. Most tenants were required to take part in a deposition and submit a sworn statement. AAFE provided translation services from Chinese to English for many of the tenants.
"Almost a decade ago, AAFE made a commitment to the residents of 283-289 Grand St. after their lives were upended by this tragic fire," said Thomas Yu and Jennifer Sun, co-executive directors of Asian Americans for Equality. "We are pleased that they are finally being compensated for their losses, and our organization remains determined to fight for tenant rights across New York City. AAFE would like to thank Patterson Belknap for its steadfast dedication to this case and to our elected officials for supporting our efforts on behalf of the Grand Street tenants."
Residents received payouts tied to their individual property losses, ranging from a few thousand dollars to more than $100,000. Jia Bi Dong, who lived at 283 Grand St. with his wife for 15 years, said, "After all of these years I wasn't sure what would happen, but I'm very thankful to AAFE and to Patterson Belknap for helping us."  Mr. Dong lost cherished art work in the fire that the family had brought over from China.
In the course of its representation, Patterson Belknap also secured an important victory with the assistance of the New York Attorney General's Office, recovering the tenants' unlawfully withheld security deposits, with some tenants having received refunds of several thousands of dollars.
"We are very pleased to have achieved this settlement for our clients," said Lisa E. Cleary, Co-Chair and Managing Partner of Patterson Belknap.  "They had to endure a terrible ordeal and rebound from losing nearly all of their worldly possessions. Even through eight years of litigation and hardship, they have been extraordinarily dedicated and persistent.  We are proud of our efforts in helping them achieve such a favorable settlement outcome, and are grateful for the partnership we had with AAFE in vindicating our clients' rights."
"Nearly a decade after the fire on Grand Street left dozens homeless, these individuals will receive the financial assistance they need and deserve," said Council Member Margaret S. Chin. "I vividly remember when the two sisters of the 87-year-old man who tragically died in the blaze came to my office seeking answers. Long after many moved on, AAFE continued to work tirelessly to bring justice to the people who lost their homes that day. The $900,000 recently secured through the work of Patterson Belknap and the advocacy of AAFE , is the latest example of the deep commitment both AAFE and  Patterson Belknap have to the victims of this fire."
"Like so many unscrupulous landlords in lower Manhattan, the building owners knowingly and intentionally ignored highly dangerous conditions in these buildings. We must continue to improve our housing laws to better protect our tenants against bad landlords who endanger and exploit our community," said State Assemblymember Yuh-Line Niou. "I will push to pass legislation that mandates providing accommodations like temporary housing and storage units by the landlord in cases of negligence like this. Bad landlords must be held accountable. Thank you to AAFE for their steadfast commitment and leadership in bringing justice for these victims. Although financial reparations will never compensate for these tenants' losses, I hope it provides some relief to the tenants and families."
"In 2010, fire ravaged through 289 Grand Street, forcing tenants to flee their homes. They were told they could not return because of unsafe conditions. After years of litigation and a landlord who lagged in making necessary repairs to existing affordable housing units, tenants can claim victory," said State Sen. Brian Kavanagh. "I am happy to stand with tenants and Asian Americans for Equality, and their attorneys at Patterson Belknap as we celebrate the nearly $1 million in settlement funds that the tenants will receive. Protecting tenants is paramount and that includes holding landlords accountable when poor maintenance leads to fires and other catastrophic events that deny people their homes."
"While long overdue, it is my hope this compensation brings a sense of peace and justice to the residents of these buildings," said U.S. Rep. Nydia Velazquez. "This fire may have happened a decade ago, but it remains a powerful reminder of why we must protect tenant rights and hold landlords accountable, something I continue fighting for at the federal level. For now, I am pleased to see this sad chapter close and I thank AAFE for their tireless work advocating on behalf of affected families."
"Being forced out of your home by a fire is hard enough without having to fight the landlord to get back on your feet," said Manhattan Borough President Gale A. Brewer. "This settlement will allow tenants displaced from 283-289 Grand St. to rebuild their lives. I thank AAFE, Patterson Belknap, and everyone else who advocated for these tenants over the past eight years."
Some of the Grand Street tenants won a separate $175,000 award three years ago from Wong's Grand Realty Corp., the owner of 289 Grand St. So the total settlement for property damages as a result of the fire exceeded $1 million.
In the immediate aftermath of the fire, AAFE helped find temporary housing for displaced tenants, assisted in the replacement of identification and other documents and fought for the rehabilitation of 289 Grand St. AAFE, as part of the Stand for Tenant Safety Coalition, successfully pushed for City Council legislation to beef up enforcement in neglected and dangerous buildings. A package of 12 bills became law in 2017.