‹ Back to News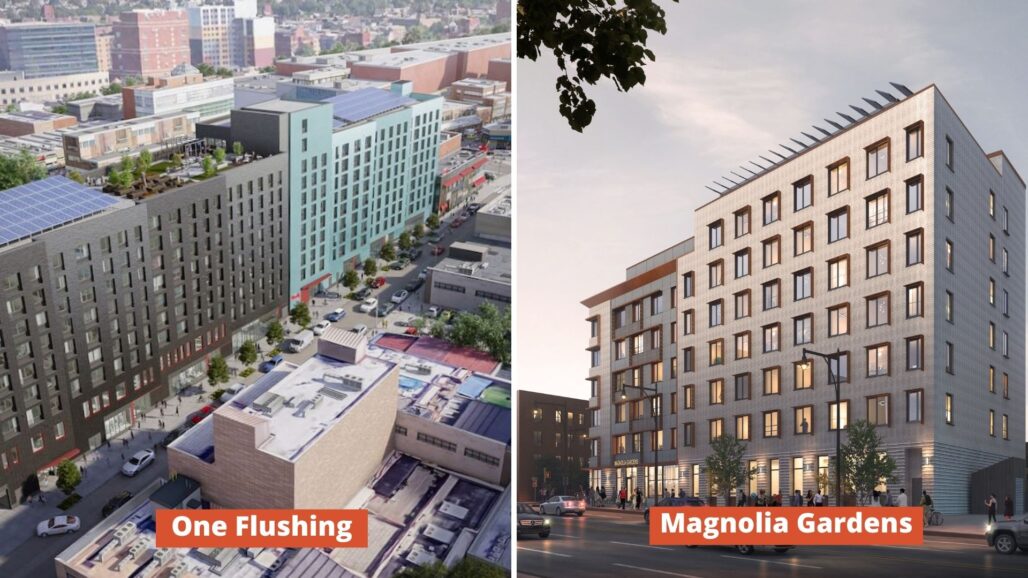 FOLLOW US
Part 2 of a 4 part series on our transitional housing facility for families with children coming to Flushing, Queens. 
Building affordable housing in New York City is always challenging.  Four years ago, Asian Americans for Equality met that challenge, overcoming many obstacles to co-develop One Flushing, the largest 100% affordable residential project to rise in Flushing in decades.  Today it's a vibrant mixed-income and multi-generational community in the heart of Downtown Flushing.
For nearly five decades, AAFE has been fiercely advocating for affordable housing and, even more important, rolling up our sleeves and building low-income housing brick by brick, more than 1,200 apartments across the city.  We're glad to see more people in Flushing coming around to the importance of creating affordable housing, even belatedly.  But here's something important to remember: there is not just one solution to solving our community's housing crisis. Is there a need for more affordable rental projects like One Flushing?  Absolutely.  But there's also a critical need for transitional housing to serve our most vulnerable families.  This is why AAFE feels so strongly about our new project, Magnolia Gardens, which will be built at 133-04 39th Avenue, bringing essential resources that have always been lacking in our community.
More than 85,000 people from across the city applied for 231 apartments at One Flushing, illustrating the incredible demand for affordable housing. The vast majority of those applications were for households earning at or below 60% of New York City's Area Median Income (AMI). So a qualified family of four today would need an annual income of about $80,000 to afford a 2-bedroom apartment, which rents for approximately $1,800/month.
In Community Board 7 (which includes Flushing), more than 20,000 Asian families are living below the poverty line ($26,500 for a family of four).  These are the families most at risk of homelessness.  They are doubled and tripled up with relatives, in basement apartments, unstably housed and just a paycheck away from losing shelter.  The transitional housing at Magnolia Gardens will not only give them a safe and secure private apartment, but also services to help them find a job, stabilize their finances and create a pathway to permanent affordable housing.  Our partner, Urban Resource Institute (URI), has a successful track record of working with families to obtain rental vouchers and secure permanent housing.  Just in the past three years, URI has done it for more than 1,000 New Yorkers across the city.
This is a critical point.  Under normal circumstances, families must take their chances in a city housing lottery, hoping to get lucky and land an apartment they can afford.  But once at a facility like Magnolia Gardens, they can receive a housing voucher and, with the help of a trained case worker, be placed in apartments reserved for families in the city shelter system.
Not long ago, a group of developers who have never before advocated for affordable housing came out with several proposed schemes to build permanent affordable housing on the 39th Avenue lot. They didn't disclose who their "experts" were, but they don't appear to have any experience creating affordable housing.  These schemes  are riddled with unrealistic assumptions and cost estimates, and in one case rely on a program that doesn't even exist. Flawed budget projections for construction, commercial rents, labor and other expenses would create a funding shortfall in the tens of millions of dollars, while they rely on funding sources (such as federal tax credits) which are highly competitive and extremely difficult to acquire.
Given AAFE's long history as a nonprofit developer, we looked at every option to build permanent affordable housing on the site.  Taking into account the clear need in the community, we knew that the only viable option was to create deeply affordable housing at 30% of Area Median Income. Due to zoning and flight path restrictions that would have limited the project to no more than 54 apartments, high construction costs and the need for a large subsidy to finance low-income housing, we concluded that it wasn't feasible. City officials confirmed on more than one occasion that they could not fill such a large financing gap for a project that would create a relatively small number of apartments.
Magnolia Gardens is meant to help families just like you and me who are experiencing temporary hardships and need assistance to get back on their feet.  Families with children attending school, or whose last place of residence was in Community District 7, will receive priority placement. This would not be the case for a conventional affordable housing project. While there is often a local preference for some of the units (it was 25% at One Flushing), housing lotteries are open to the entire city.
We believe there is a spectrum of housing needs in our community.  In the past two decades, AAFE created many homeownership opportunities in Queens, rehabilitating 2-3 family homes. We developed projects such as One Flushing and will continue to look for new opportunities to create low-income rental housing.  In response to the loss of thousands of single room occupancy hotels, AAFE is working to create a new model for safe and modernized SRO housing in Chinatown.  In Flushing, Magnolia Gardens is an important part of our comprehensive strategy to address the housing crisis from every angle.  This project is all about ensuring that our children have every chance to succeed, contribute to the community and fulfill their dreams.